Honoring Our Members & Our Work
Why Community Organizing Matters?
~ Special Guest Speaker Oliver Thomas
Fundraiser for A Community Voice
Saturday, September 24th
6pm to 9pm
Grace Episcopal
3700 Canal Street
Tickets $20/person
Organizational Table: $100

(Special Reserved Seating)
Join us for a gathering to discuss the importance of building and uplifting our community, as we work together to combat social injustice and poverty. Our special guest speaker is Oliver Thomas. This event is a charity event to support A Community Voice campaigns for equity in rebuilding in New Orleans flooded neighborhoods.
Mail your Check:
A Community Voice 827 Tupelo Street New Orleans, LA 70117
Or Call 504-941-2852 for tickets
Reserve Your Seat Today!
Long-time Community Activists & Social Justice Fighters
Beulah Labostrie & Lanny Roy
Honored by City of New Orleans

March 29th, 2011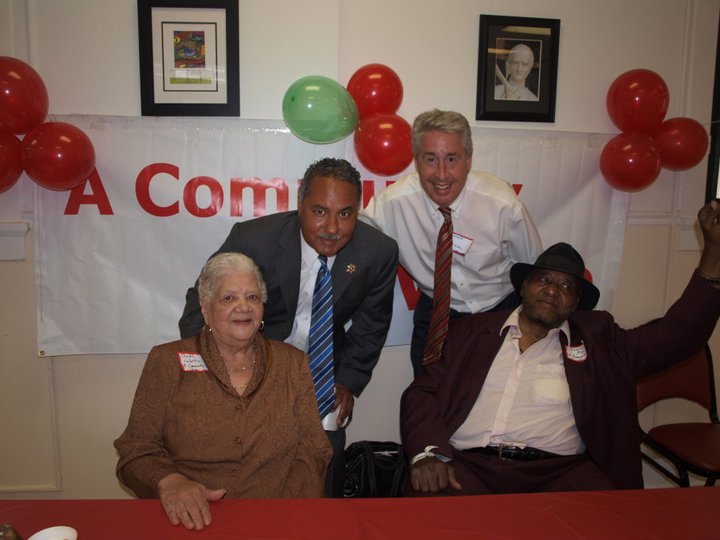 Beulah Labostrie: President Emeritus of A Community Voice

Beulah Labostrie comes from a history of Civil Rights activism and her life's work has been as a social justice fighter for the poor. From engaging in the initial fights for generic drug legislation to organizing and leading bus trips to rural areas in the South to register new voters, Mrs. Labostrie has been a lifelong fighter for civil and human rights. Active in community organizing in Louisiana since the 1970s, you will still find Mrs. Labostrie participating in our Equity in Rebuilding campaign meetings in New Orleans and engaging in candidate forums to make sure candidates understand the issues that matter to low to moderate income families. Over the years, Mrs. Labostrie has passed on her wisdom and guidance through training new generations of community leaders. Her guidance has been invaluable to shaping and directing our current campaigns and the organization embodies her tireless spirit of never giving up until justice has been achieved.

Lanny Roy: President of A Community Voice
Similar to Mrs. Labostrie's history, Lanny Roy has come from a life born out of hardship and struggle to be a champion for the poor. Mr. Roy has lead numerous fights across the State and throughout the country on historic issues such as the Community Reinvestment Act (CRA) and police brutality issues. Today, you will find Mr. Roy working with the Mayor of Lake Charles in brainstorming sessions on ways to expand hardship rehab housing programs for the poor and elderly or traveling through Imperial Calcasieu Parish and beyond to organize around an incident of police brutality or an injustice in the workplace ~ always and forever putting the issues of others before his own personal needs. Mr. Roy was elected President of A Community Voice because of his pioneering vision of always being able to see clearly the needs and issues of low to moderate families and always being willing to take on the toughest issues in the fight for social justice. Lanny Roy's vision and commitment to social justice continues to help shape the work of A Community Voice.
Both leaders were honored by City Council President Arnie Fielkow & Mayor Landrieu by proclamations praising their civil rights work. It was a great day for A Community Voice, as many of our friends and supporters came out to the event.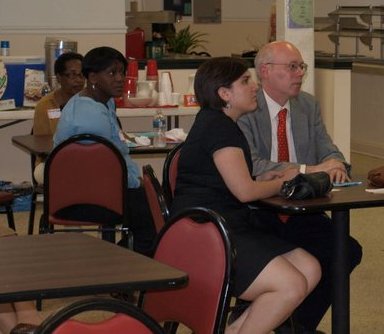 We would like to thank Mayor Landrieu & his office, Congressman Cedric Richmond, Sheriff Marlin Gusman, City Council President Arnie Fielkow, Rev. Kenneth Thibodeaux from Asia Baptist, Rev. Leonard Lucas Jr. from Light City Church, and Director of Southeast Louisiana Legal Services Mark Moreau for their praise of these two leaders and A Community Voice.



"Land of Opportunity" Screening Event

Jan 22nd, 2011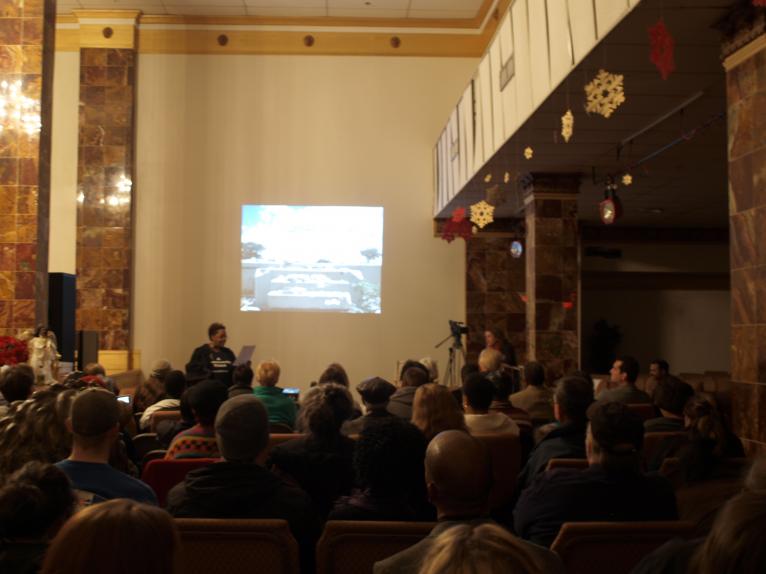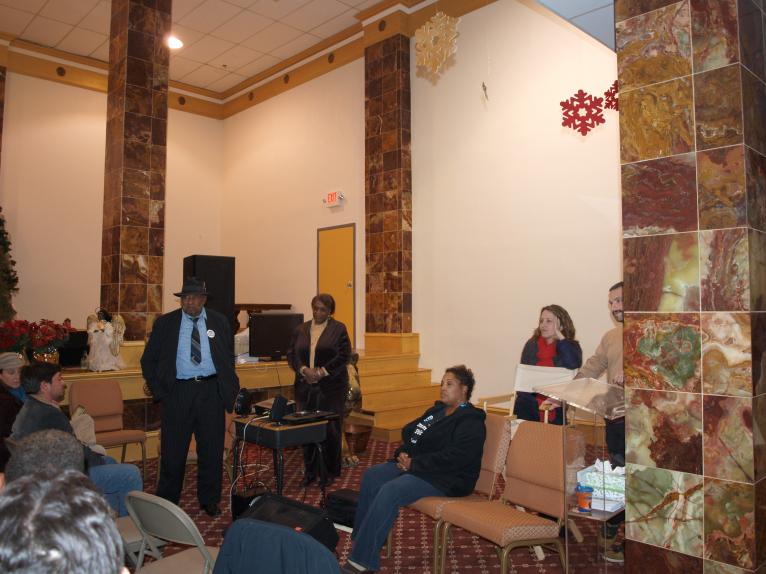 www.landofopportunitymovie.com


On June 19th, 2010
Leaders of A Community Voice
Celebrate 40 Years of
Community Organizing History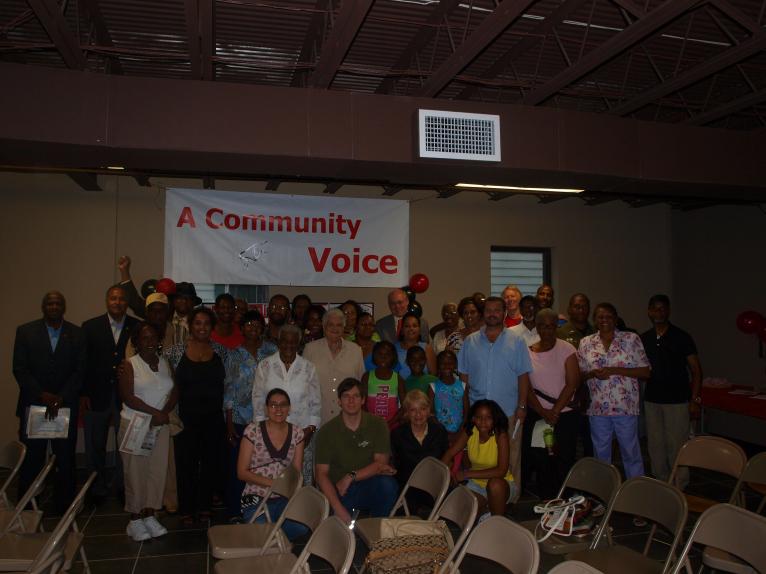 Members of A Community Voice came together to announce the Gerry Bell, Beulah Labostrie, and Lanny Roy Community Organizing and Social Justice Legacy Project

This project will help educate and train young community organizers so that the tradition of social justice work of these strong Louisiana leaders may continue for generations to come.

Geraldine Bell was known as President of Louisiana ACORN from 1980 until her untimely death in 1993; Secretary of the national board of ACORN and Regional Representative for the South, and there for every social justice fight. One of the most formidable leaders ever from the 9th ward. Mrs. Bell began her life as a feisty girl who would throw out the streetcar window, the racist two-sided removable placard affixed to the top of one of the seats that read "colored" and the other side read "white"; later she was part of many civil rights boycotts and picket lines. When the United Teachers of New Orleans began organizing their union through a bitter strike, it was Gerry Bell who led the para-professionals out and urged the teachers to join them, winning the strike. President Nat LaCour widely recognized Geraldine Bell for her amazing leadership skills, and at her funeral service, recognized that she had gone on to take over heaven and get it organized. It was Geraldine Bell who brokered for national ACORN, a commission for low to moderate income participation within the Democratic party called the Mickey Leland Commission.

Also remembered for running major campaigns to prevent expansion of the Industrial Canal in the late 70's; for stopping a non-democratic board from running the 9thward; for training up Gertrude Gaudin and Frenzella Johnson, Mabel Washington and other leaders. Frenzella began her community organizing with Gerry training her how to stop traffic to win school signs on streets and highways near schools so the children could cross safely; to a whole host of awesome tactics and direct action campaigns. In one, she turned Dutch Morial aroundon a neighborhood issue with her formidable petitioning and direct action campaign. She utilized many of the skills she learned from Nat LaCour in her ACORN negotiations and trained other ACORN leaders.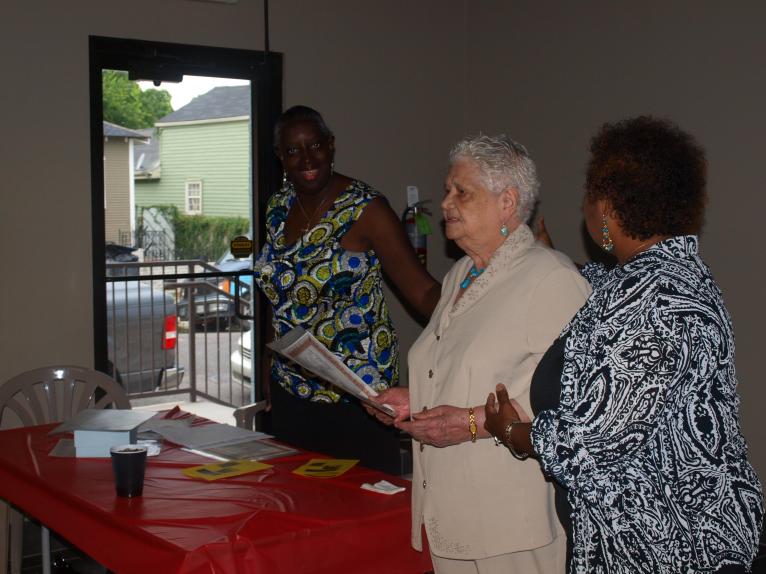 Since 1976, Beulah Labostrie has been a local, statewide, regional and national leader in ACORN. Instrumental in establishing the largest grassroots organization in the South; led actions on banks using the Community Reinvestment Act (CRA) to establish fairer lending practices andnegotiated red-lining agreements with banks; and led voter registration campaigns and a caravan through the South to register new voters. In the early years of building the organization in New Orleans, Mrs. Labostrie worked closely with Gerry Bell on utility and lifeline telephone rates, generic drug legislation, and the right for people to obtain abandoned homes. Oversaw Louisiana's participation in the Resolution Trust Corporation (RTC) auctions of property winning thousands homes for mostly African-American women. She led the successful ballot initiative and New Orleans Living Wage Campaign, built a large coalition that won in Feb. 2002, voters came out and voted 2 to 1 for a higher minimum wage. Fought & won against the privatization of SW&B. Provided leadership and support to New Orleans families post-Katrina, active in campaigns for the right to return and training a new generation of leaders to fight for social and economic justice. Mrs. Labostrie founded A Community Voice in October 2009.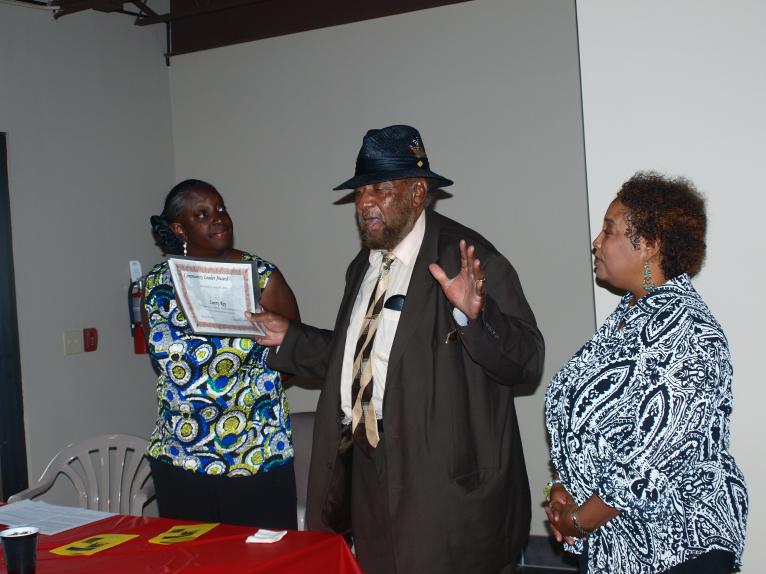 Lanny Roy is a national, statewide, regional and local community leader beginning with the NAACP and as a union advocate for fellow workers at the chemical plants in Calcaseiu Parish, Lanny Roy is a founding member of the 1978 Lake Charles chapter of Louisiana ACORN. Witha march to demand paved streets, curbs, and sidewalks, the wins began to improve the neighborhood. Mr. Roy has been instrumental in fighting for fair lending practices across the nation through enforcement of the Community Reinvestment Act (CRA) and campaigning for civil rights to ensure equal access to city, state, and federal services for low to moderate income neighborhoods. Mr. Roy originated a membership-run affordable housing program that has aided hundreds of families in owning their own homes, incorporating fair housing education and predatory lending awareness training in addition to credit counseling and financial literacy training components.
A short list of many more wins; a special free housing repair program was won to rehab the homes of senior citizens andfamilies with disabilities, police brutality reforms in Lake Charles as well as the parishes surrounding Calcasieu. A key policy was won to prevent racial profiling in Lake Charles that was signed by the police and the mayor. Mr. Roy founded A Community Voice in October 2009.

Many more A Community Voice Leaders and Members were honored for their social justice work.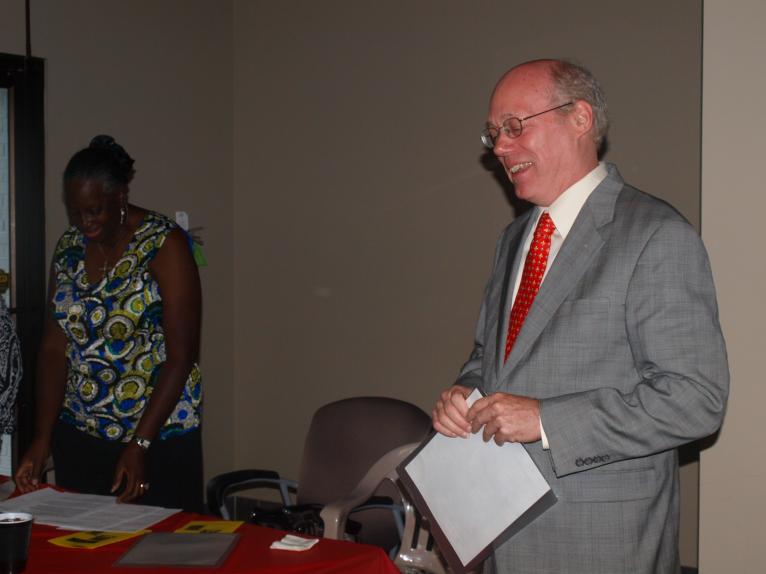 Attorney Mark Moreau from Southeast Legal Services accepts his award.




Sheriff Marlin Gusman receives his award and gives Mrs. Labostrie an honorary deputy award.