Community Organizing Projects
A Community Voice ~

A Voice for the People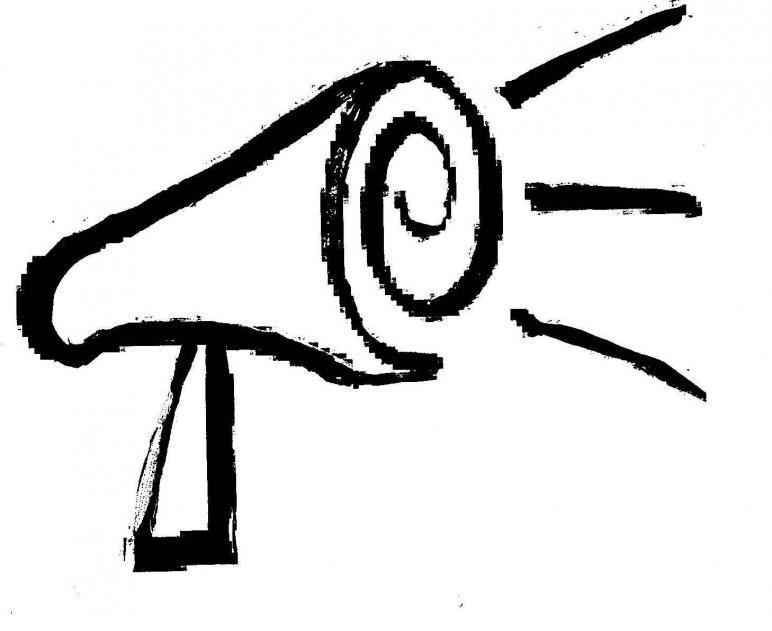 New Orleans: Upper 9th Ward Residents Fight to Save Their Homes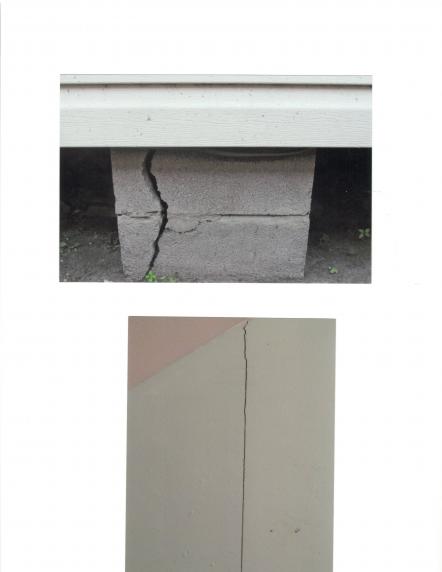 Since last summer, elderly residents' complaints about cracking foundations from William Frantz School construction have fallen on deaf ears. They have gotten the run around from City Officials, including the RSD and representatives of companies doing the construction of Frantz School, with each party denying responsibility. Many residents such as 79 year old Annie Falls were told that their homes must have been damaged before construction started at the site of Frantz School. However, she has before and after pictures that clearly illustrate extensive seismic damage to her foundation. Costs of such repairs are way beyond her fixed income. "We are pursuing legal action because we can't get the City to take our concerns seriously," says A Community Voice member Annie Falls. "They are taking advantage of the elderly residents that live around Frantz School and blaming us for problems they caused. There is no regard for us homeowners who came back after Katrina to rebuild our homes and struggle to maintain our homes on a limited income."
A Community Voice invites all impacted residents to join us in fighting for compensation for damaged homes. Please call 504-941-2852 ext 101 for more information.

A Community Voice & Local 100 United Labor Unions
Leadership Conference
August 27th, 2011
Report by Lanny Roy President of A Community Voice
Union members and community leaders from Lake Charles, New Orleans, Lafayette and Baton Rouge came together for a leadership conference on August 27th in Lafayette, LA to develop organizing plans to address the most pressing issues affecting working families today. A Community Voice and Local 100 United Labor Unions, an independent labor union that organizes low wage service sector workers in Louisiana, Texas, and Arkansas, are excited to announce their new efforts to work together on the "Community Labor Organizing Project" that would bring community and labor together to support working families and those struggling to make ends meet.
A Community Voice is working with Local 100 ULU to address underemployment and unemployment within Louisiana. Workers today are facing cuts across the board in many of our service sector industries such as healthcare. There is more competition for an increasingly limited number of jobs, leaving many workers unemployed for longer periods of time. This partnership seeks to educate more workers and low income community residents about their rights on the job in order to develop stronger community support for better jobs and working conditions, as well as advocate for living wage job opportunities and training programs within our own communities through community benefits agreements in which new construction projects within our neighborhoods would hire residents and provide benefits to those who live within the area.
Other issues discussed at the leadership conference included the need for voter registration campaigns within low to moderate income communities and a hiring hall to help connect workers to available job opportunities. While our efforts will start in Louisiana, A Community Voice hopes to expand throughout the Southern region as workers and low income families in Texas and Arkansas face similar issues within their communities and on the job site. We encourage anyone with jobs concerns to contact A Community Voice at 337-707-1517 or visit our offices at 2322 Dewey Street.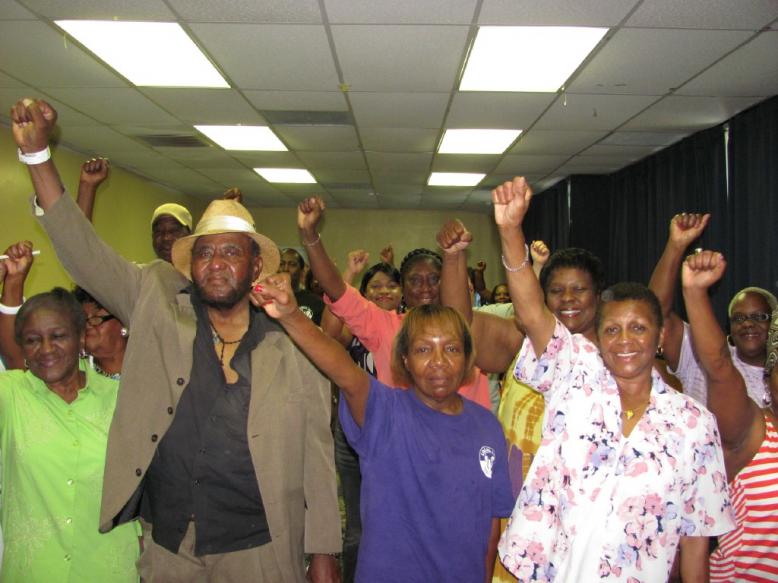 July 30th, 2011 Leadership Workshop ~ New Orleans, LA
Profes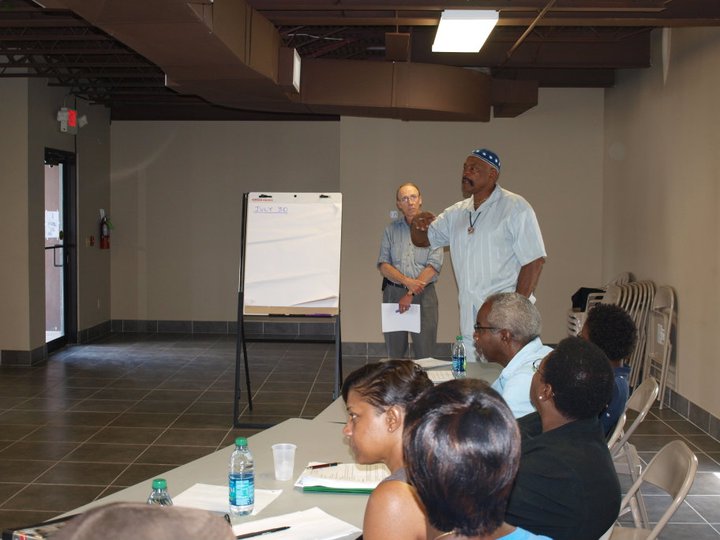 sor Daniel Russell from Springfield College gives presentation to ACV leaders on how to collect participatory data for their housing study. ACV leaders are concerned about
the growing blight in their neighborhoods and the hundreds of families who have not yet been able to rebuild their homes. On July 30th, they had a leadership training and workshop to discuss how best to address these issues. Leaders left the meeting informed and motivated to work with their neighbors to come up with solutions that rebuild our housing stock and make our communities whole.

A Community Voice is using a housing survey to collect data from folks with housing issues, especially those who haven't been able to completely rebuild their homes, to create a housing study to support our conversations and campaigns around rebuilding the infrastructure in the flooded neighborhoods of New Orleans.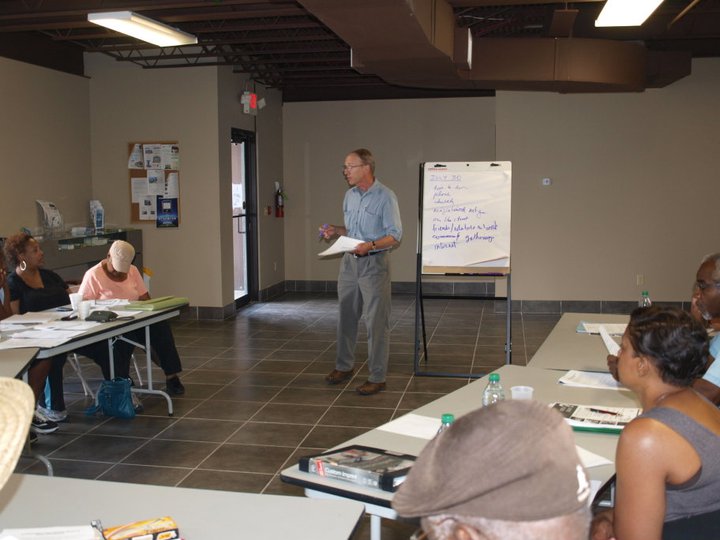 If you are a renter or homeowner in New Orleans or own a property in New Orleans but living el
sewhere, please fill out this housing survey.
City of New Orleans Katrina Fraud ~ $1.9 Billion in FEMA Money Stolen from New Orleans Residents
Rally & Protest to Rebuild Our Flooded Schools
Saturday, August 13th
10am
Site of Lawless High School
5300 Law (at Andry)
March/Caravan to Oliver Bush Park (Caffin & Florida)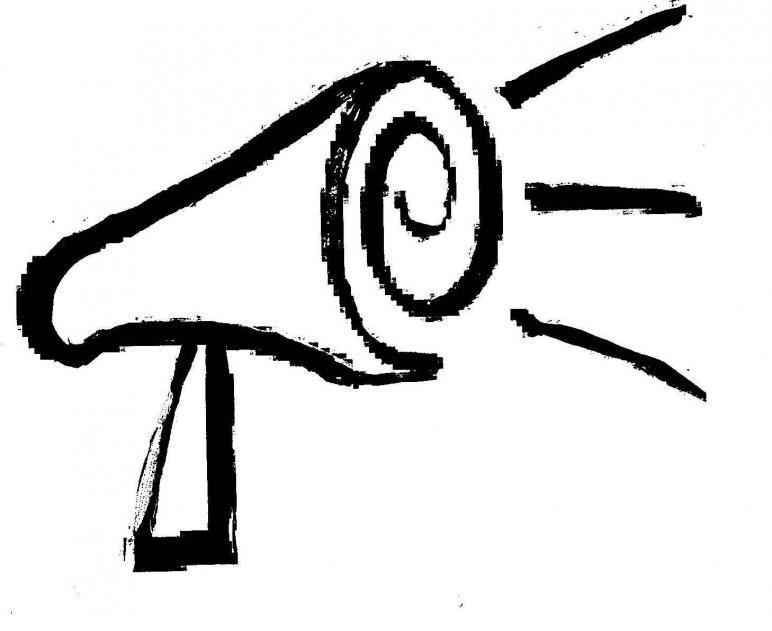 Save Our Bywater Post Office
Bywater Post Office on Poland Avenue is the only post office for the 70117 area. The Federal Government is trying to close it. We need our post office.

What you can do! Call Congressman Cedric Richmond 504-288-3777 or send him an email via online contact form to let him know how much we need our post office.

Also, Email United States Postmaster General at pmgceo@usps.gov Today!

August 4th, 2011 Lake Charles A Community Voice Releases Racial Disparities in Lending Report
Despite numerous bailouts for all banks and financial institutions, mortgage loans have continued to decline. Increasingly disturbing, is the widening racial disparities in terms of lending practices in the Lake Charles MSA.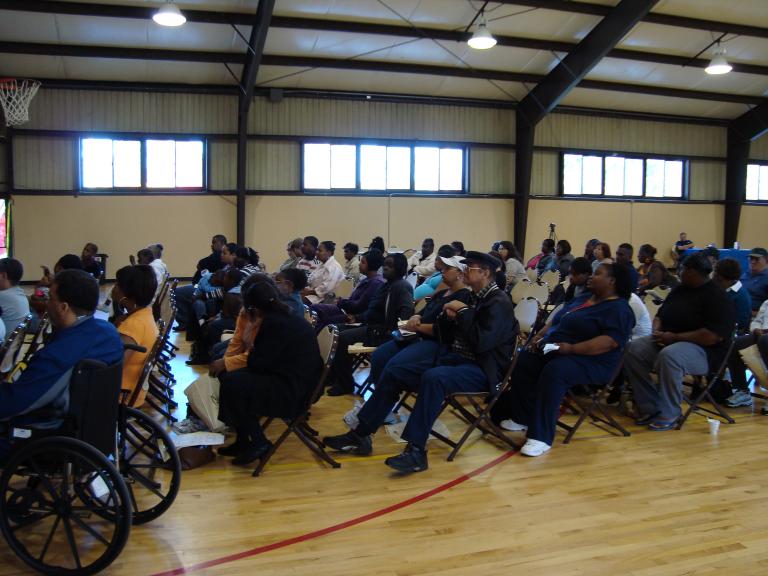 In fact, Whitney National Bank ~ the largest bank in Louisiana and 3 locations in Lake Charles originated only 13 home loans and refinance loans combined over a three-year period to minorities (African Americans, Hispanics, and Asians combined). Only 25 minorities filled out loan applications during this same time period. A comparison of these numbers with the number of white applicants (201 total) illustrates a lending regression back to pre-CRA (Community Reinvestment Act) days. The CRA was designed to increase home ownership in minority and low income communities and failure on the part of the federal government to monitor and ensure CRA compliance.
A Community Voice's Lending Study includes recommendations for how area lending institutions may increase their outreach into minority communities and calls for compliance with the CRA and fair housing laws, as well as an end to practices of racial discrimination in lending. A full version of the study is available here.
A Community Voice Fundraiser

Why Community Organizing Matters?
Special Guest Speaker Oliver Thomas & Others
Saturday, September 24th, 2011
Grace Episcopal Church
3700 Canal Street
New Orleans, LA
6pm to 9pm

Join us for an insightful, inspirational and fun evening about building strong communities. Refreshments included.

Tickets $20/person
A Communtiy Voice is Happy to Host Need a Grant? Workshop by Self-Development of People
Grants for grassroots groups are available from the Presbyterian Committee on the Self-Development of People for groups who:
are oppressed by poverty or social systems

have a project that will address the problems they are facing

will control this project themselves and benefit directly from it

have decided that what they are going to do will bring long-term improvements to their lives and communities
Thursday, August 18th
2pm to 4pm
Holy Angels (Cafeteria)
3500 St. Claude
New Orleans, LA

Please reserve a space by emailing Mary.Lewis@pcusa.org or calling 888-728-7228 ext 5791.


Commuity Labor Organizing Project
The Project involves organizing the underemployed and unemployed within Louisiana through community labor partnerships. Organizing this segment of the workforce is an urgent need, as the economy of Louisiana maintains and supports a service industry based low wage workforce that is increasing due to State cuts in the higher wage industries like healthcare. This expanded low wage worker population faces more competition for limited jobs with no benefits, and community and labor leaders coming together can best create a community labor organizing strategy that addresses both job concerns and community issues that result from low wage jobs and deteriorated communities.
If you need a job or know someone who needs a job, please call A Community Voice at 504-941-2852.