Jobs Campaigns
New Orleans Jobs Forum
Help win Jobs for Residents and join the fight for more jobs rebuilding our neighborhoods!
Thursday, June 28th. 2012

First Grace Methodist Church

3401 Canal Street
6:30pm
A Community Voice Helps Residents Get Jobs



On May 10th, 2012, over 100 residents came out to sign up for jobs at the Lower 9th Ward community meeting at Trinity Lutheran Church on Claiborne & Egania. ACV is working with the City of New Orleans and JOB1 to make sure residents get the jobs to rebuild this city. Many projects that ACV members have been working hard to get rebuilt such as the Sanchez Center are finally about to start construction. Thanks to the Mayor's office and Councilmember Stacy Head for attending this meeting. Thanks to Trinity Lutheran for being such welcoming hosts. The Lower 9th Ward ACV group meets every second Thursday at Trinity Lutheran.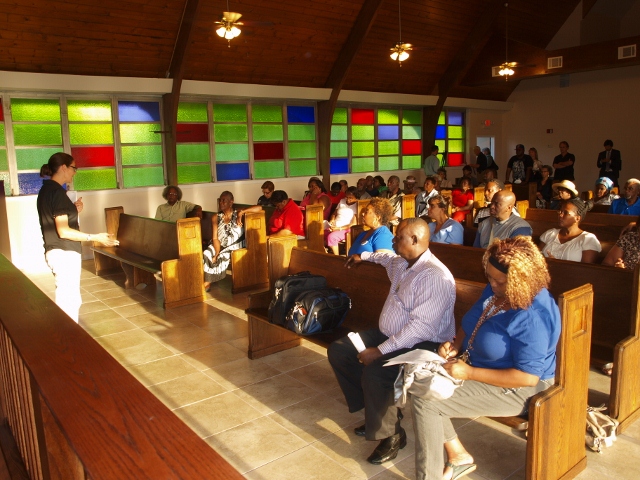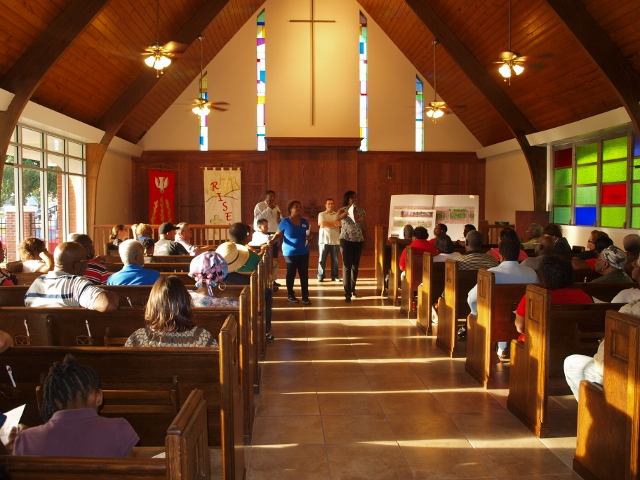 A Community Voice Members Support SEIU Local 21LA Workers Fired by Aramark
May 8th, 2012
ACV joined in support of SEIU Local 21LA's press conference in support of cafateria workers who work in Recovery School District (RSD) schools through the subcontrator Aramark. 12 workers were fired for no reason (one with over 20 years of experience). The press conference was held in front of the RSD offices on Poland Ave. The People United Will Never Be Defeated!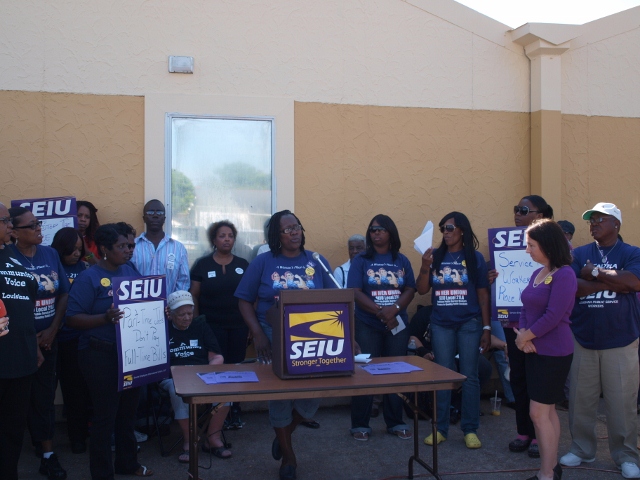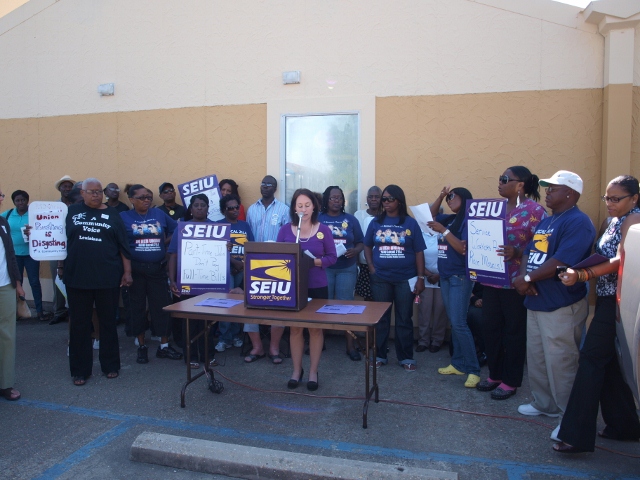 A Community Voice Jobs & Self-Development Center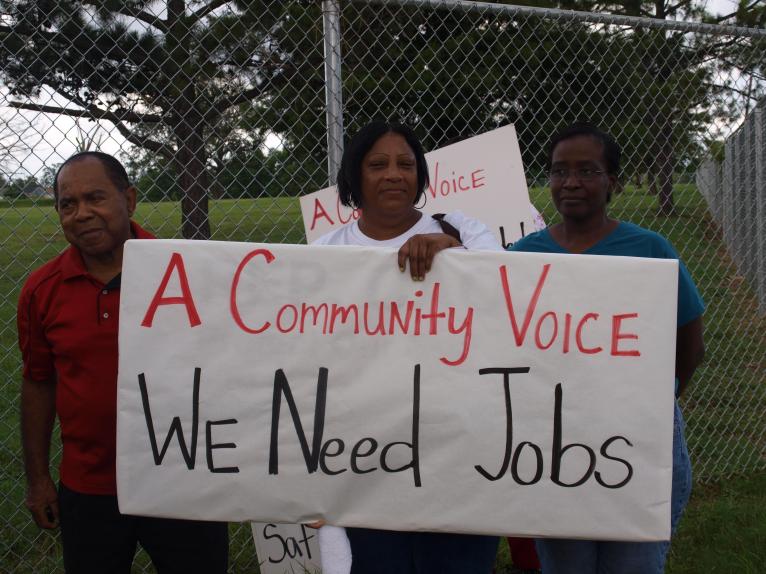 Need held finding a job?
Need training on how to do online job trainings?
Need computer training to learn on to use the Internet, create a resume and increase your job skills?

Our computer center and hiring hall may be the place for you. We are helping residents in the New Orleans area get living wage jobs through computer training, helping them search for jobs and resume creation and support services.

Please join our Hiring Hall to be on the list for jobs and other services.

Jobs & Self-Development Center
3401 St. Claude Avenue Suite 2B (second floor)
New Orleans, LA 70117
504-941-2852 ext 101
Appointments available between 11am to 7pm, M-F and weekend hours are available.

Thanks to Self-Development of People for funding this project.
A Community Voice Supports the Fight to Save Avondale Shipyards
October 1st, 2011 The pending closure of Avondale Shipyards will mean a tremendous loss of good paying and highly skilled jobs for Louisiana residents. A Community Voice attended a huge rally by labor unions and officials speaking in favor of keeping this shipyard open.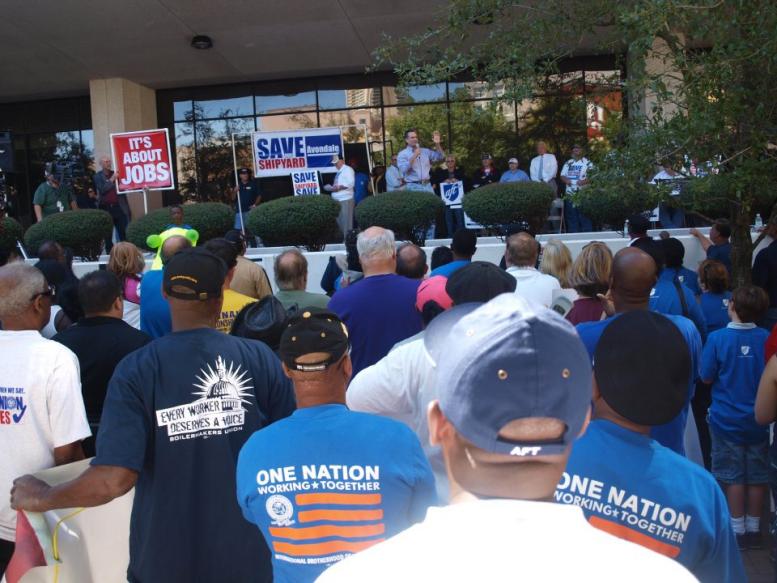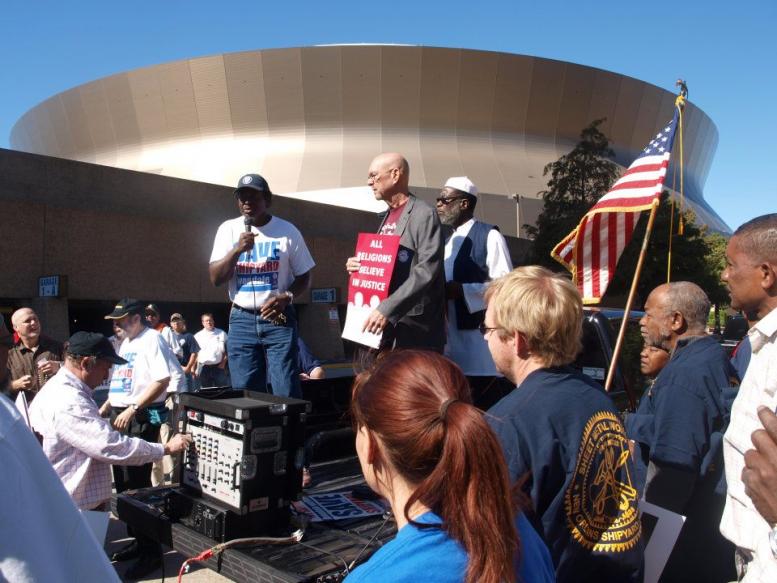 A Community Voice Protests for the Reopening of Lawless High School ~
We Need the Jobs!
August 13th, 2011
A Community Voice held a protest at the site of Lawless High School in the Lower 9th Ward. Residents have been waiting over 6 years for this school to be reopened. ACV wants to make sure the school is rebuilt and that residents get the jobs to rebuild the school and work in the school.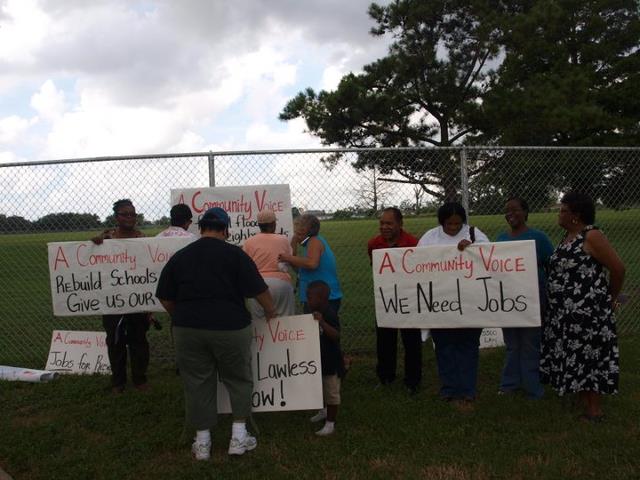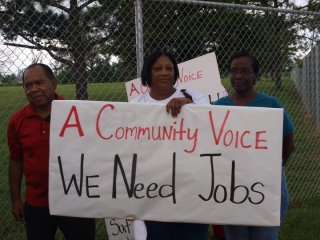 A Community Voice Community Organizing Internships

Job Description
A Community Voice is looking for part-time community organizers (about 20 hours per week) to organize in low to moderate income neighborhoods in New Orleans.

This job is not a desk job.
Duties:

daily outreach door to door in low to moderate income communities to survey residents' concerns and organize community meetings

recruit new members into A Community Voice

work with members on fundraising projects

Internship Benefits:
Extensive one on one training on community organizing

Training for Civil Rights leaders


Build Social and Economic Justice

Work for a cause that matters

Help your community


Commitment to social justice and civil rights is a must. Must be comfortable working with and talking to a diverse group of people. Interview process includes an interview by members of the Executive Board of A Community Voice.

The Ideal Candidate:


willing to learn

committed to building a mass based organization of low to moderate income families

independent and self-motivated

works well with others

Interested?

Please email bbutler@acommunityvoice.com or give us a call at 504-941-2852 ext 101. Interns may work in New Orleans or Lake Charles, LA.