Equity in Rebuilding Campaigns
Become a member of A Community Voice for just $10/month, click on subscribe
Tax deductible donations can be made through our fiscal agent, Southern United Neighborhoods, & JustGive.org
Hurricane devastated neighborhoods in New Orleans are still fighting for their fair share of recovery money.

"Spend the Money Where You Raised it" is one of the slogans for this campaign.

A Community Voice members are fired up about the City of New Orleans collecting billions of dollars from FEMA and private donations in the name of Katrina damage and devastation and failing to spend the money in the neighborhoods that were most devastated by the hurricane. If you believe that the City of New Orleans committed Katrina fraud by not spending the money where they raised it, than you need to join our campaign. Together we can make a difference!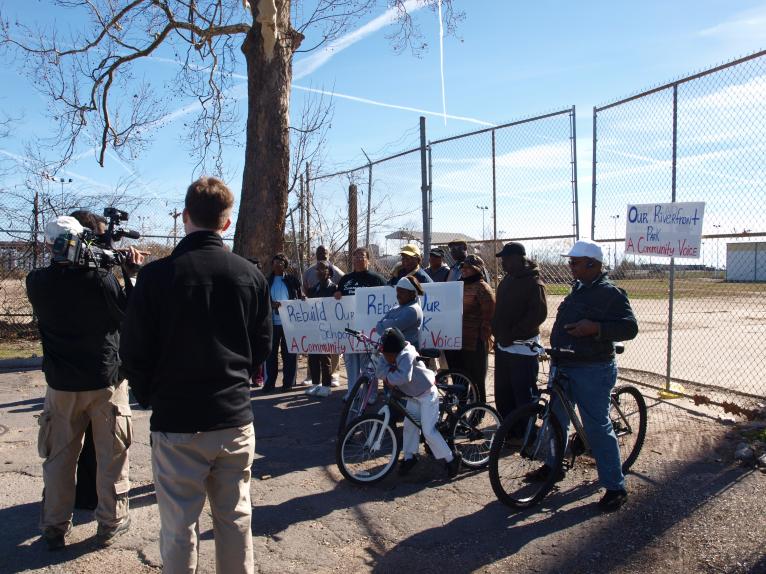 Here is up we have been up to. . .
Residents Meet with the Mayor's Office about Constant Delays to Capital Projects for the Lower 9th Ward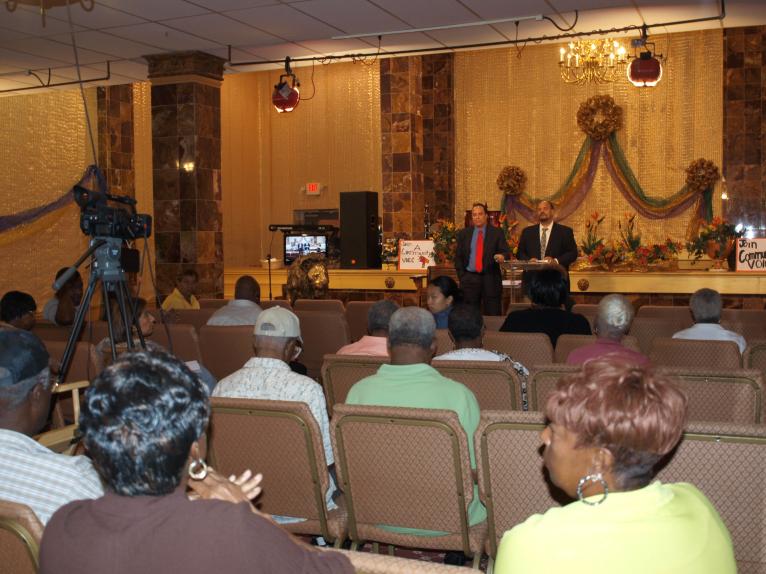 Residents also signed petitions and letters to the Justice Department calling for the City of New Orleans to be investigated for Katrina Fraud.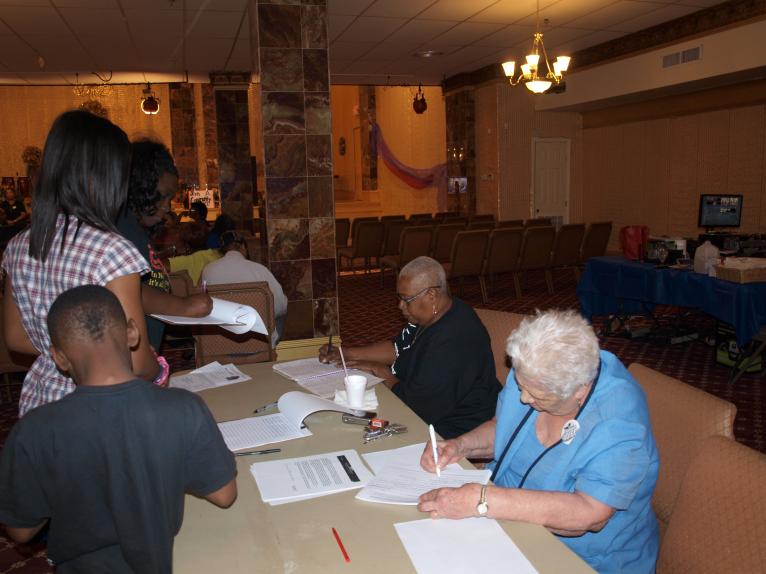 ACV in the News
A Community Voice speaks out against the unfair treatment of homeowners by the City of New Orleans, as councilmember gets away with blighted property without paying fees for code violations.
Upper 9th Ward Meeting
May 17th, 2012 Residents coming together to discuss campaigns for jobs, upcoming actions on blight and other issues.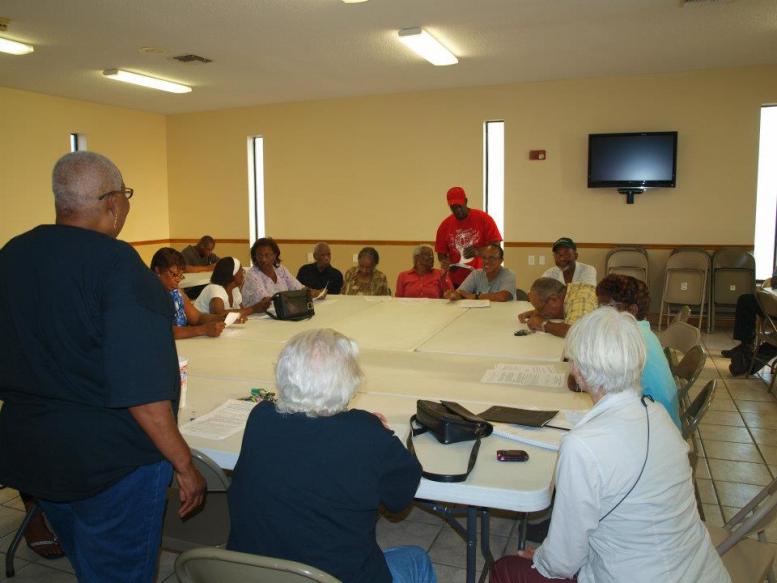 Lower 9th Ward Meets on Recovery Issues & Jobs
May 10th, 2012 Group meetings with Councilmember at Large Stacy Head.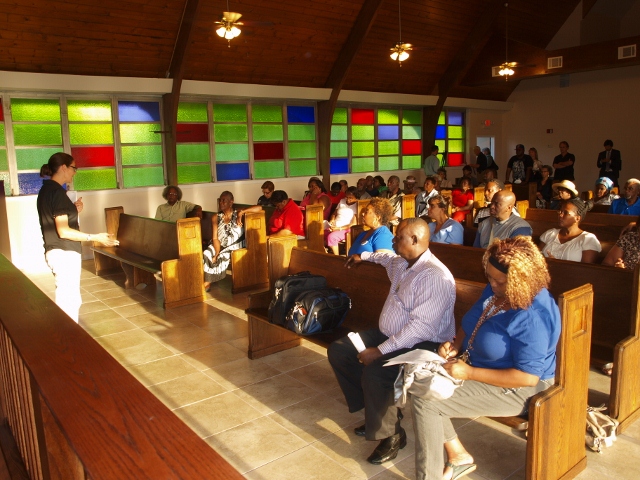 Discusses Section 3 jobs for residents with Job1 and the upcoming street repairs.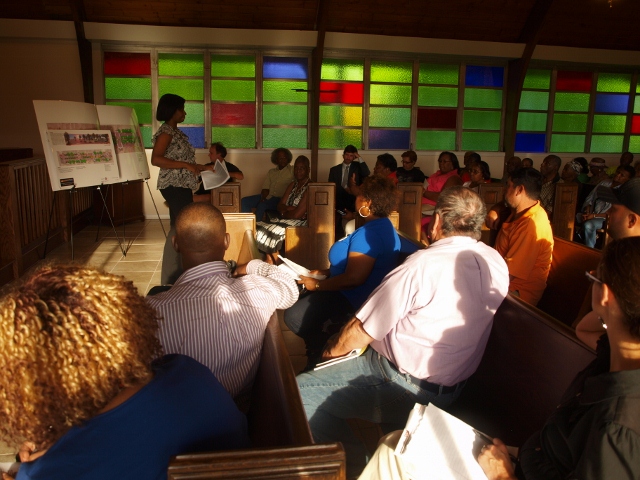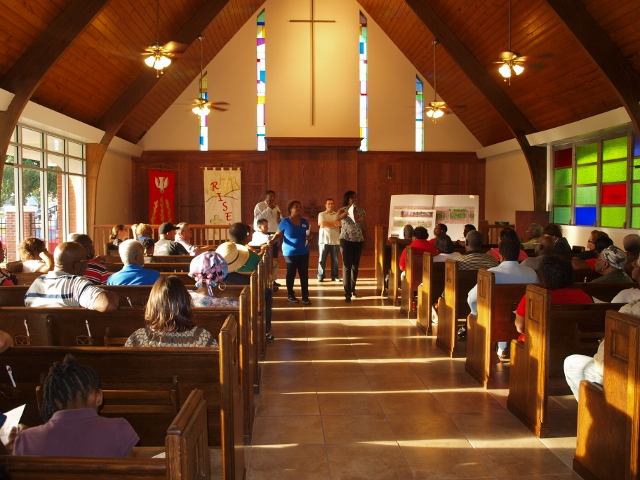 A Community Voice Healing Heart & Soul Event
March 5th 2012 A Community Voice, through a project with Dillard University, addressed growing health disparities in our communities by hosting a mental health event in which residents viewed a screening of the award-winning PBS documentary Unnatural Causes: Is Inequality Making us Sick?, which leaks lower economic status to higher stress. Residents received free yoga training and participated in a mental health workshop to learn coping skills.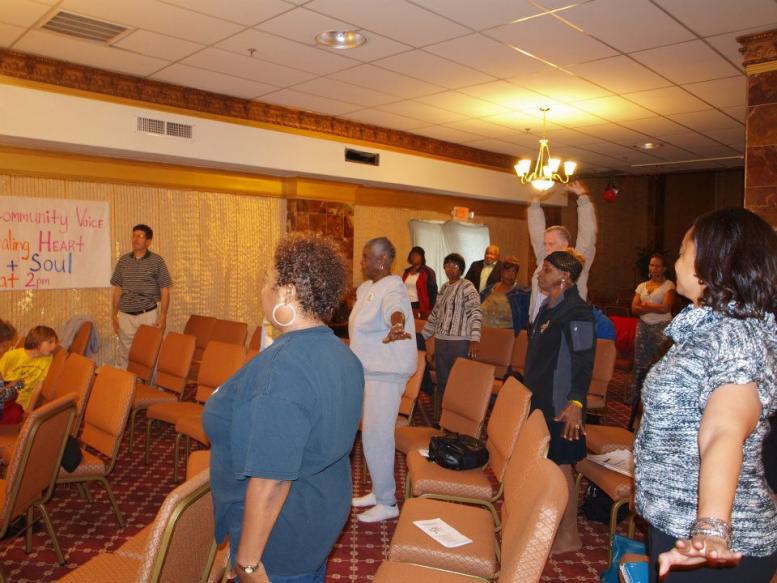 Action on S & W Board to Fix Leaks
February 25th, 2012 A Community Voice members came together to protest leaks that have bubbling in the streets since Katrina. After the meeting with S & W Board Director Marcia St. Martin, ACV won all the leaks being repaired.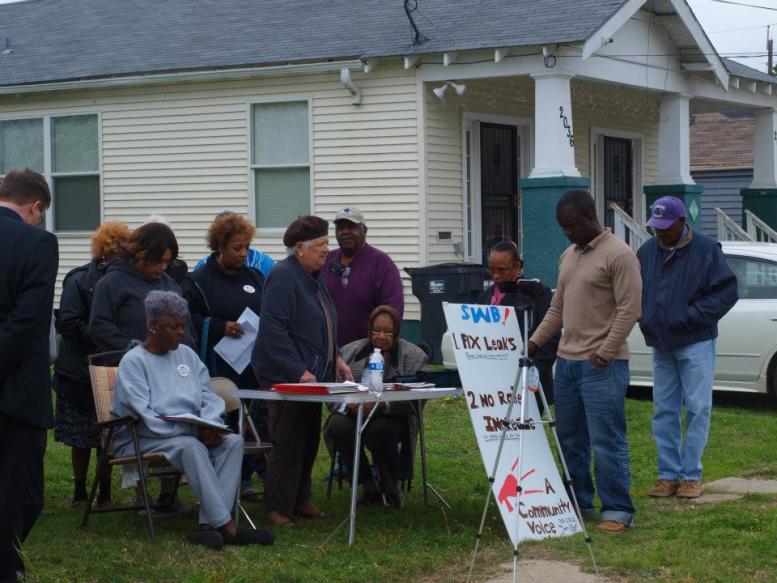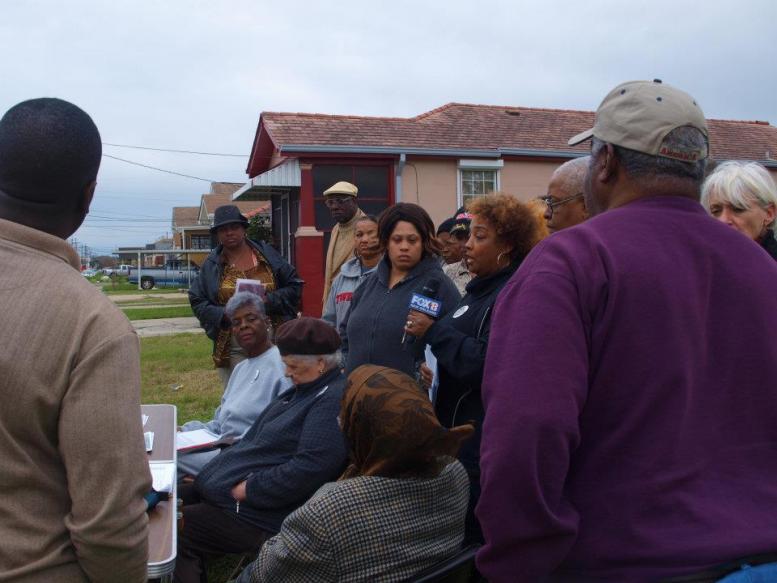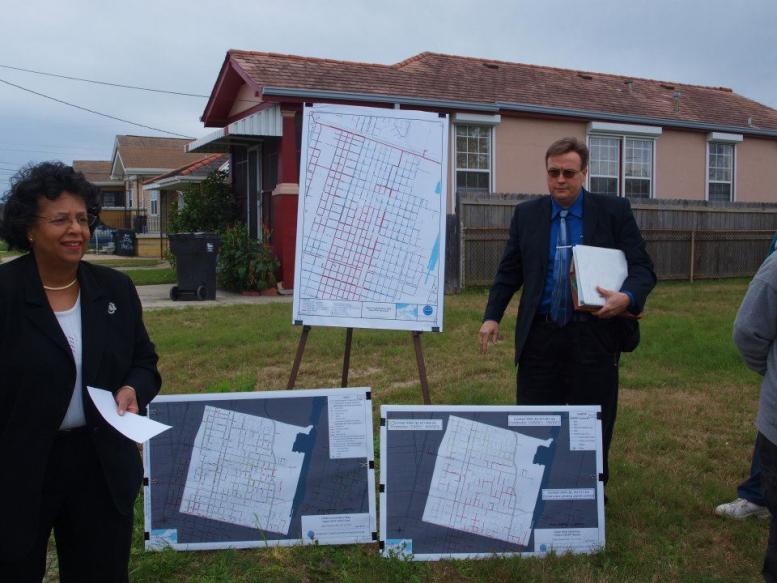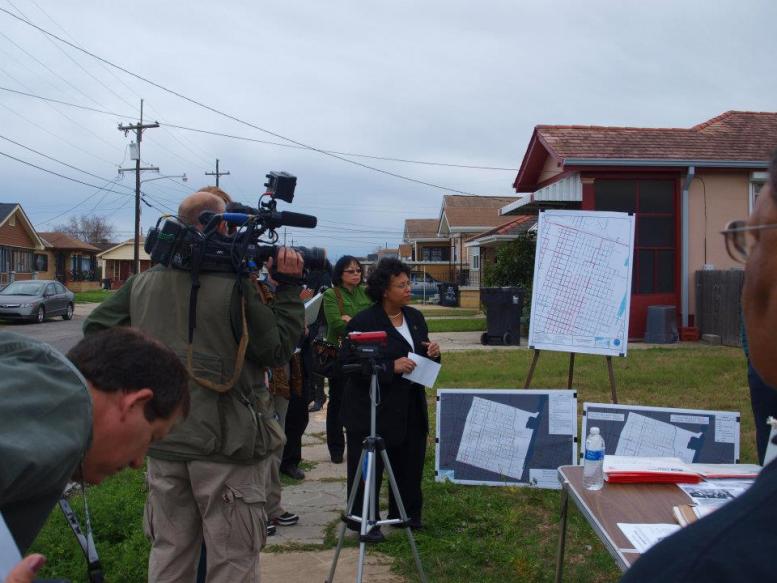 ACV in the News
A Community Voice Wins Ground-Breaking of Oliver Bush Park
February 9th, 2012
After years of arguing and fighting the city over the rebuilding of Lower 9th Wark parks and playgrounds, ACV won the reallocation of funds to rebuild Oliver Bush Park and ground-breaking ceremony was conducted in Feb. 2012.
ACV Vice-President Vanessa Gueringer with Mayor Landrieu and other city officials at the ground-breaking.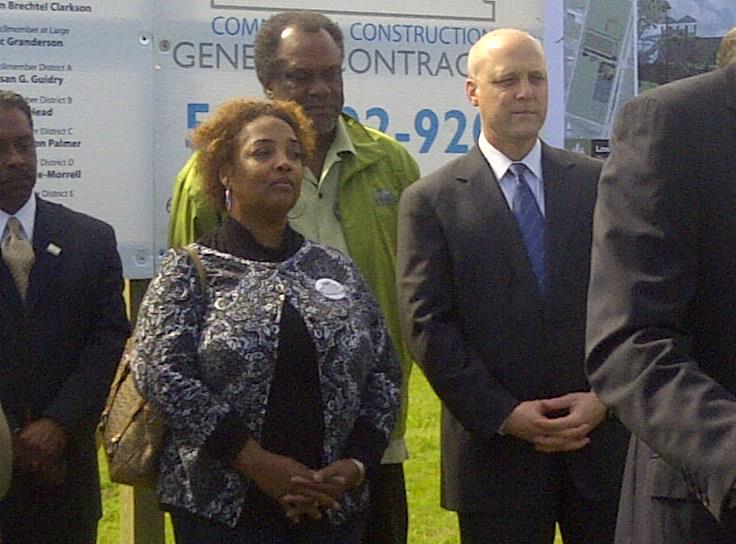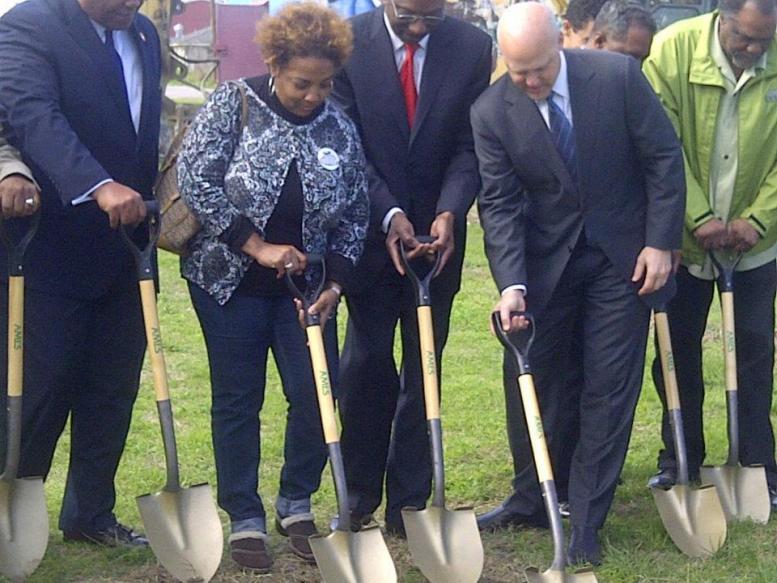 ACV in the News

ACV in the News
A Community Voice Fights Blight
A Community Voice Fights Crime in the 5th District
January 19th, 2012 ACV meets with Sheriff Marlin Gusman and NOPD 5th District Commander Goodly about crime issues after a spike in murders, including the burning of a car and body on Pauline Street in the Upper 9th Ward near several ACV leaders' homes.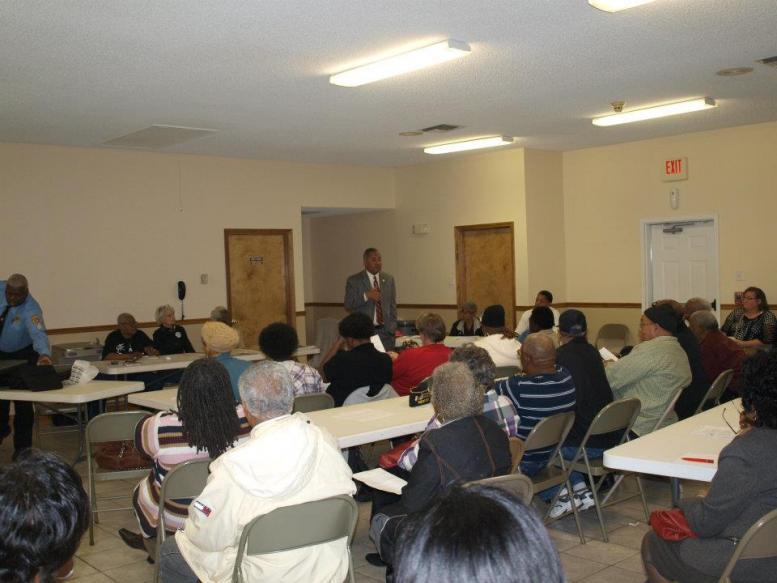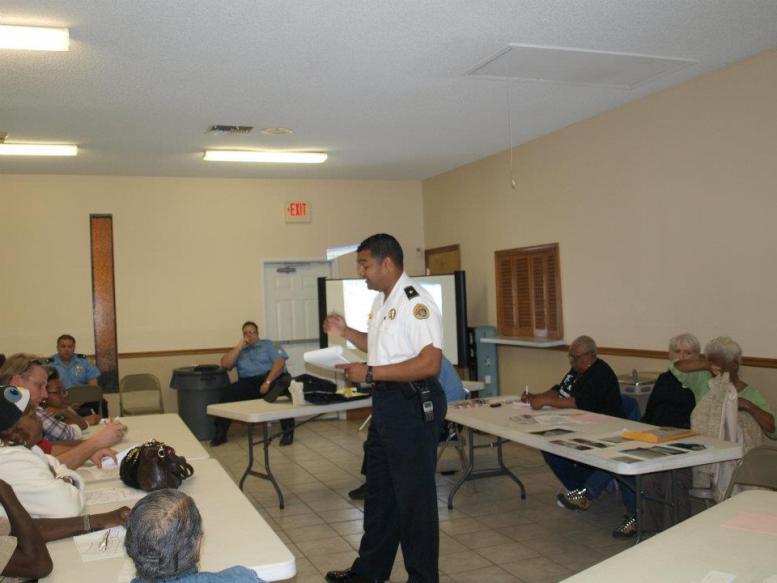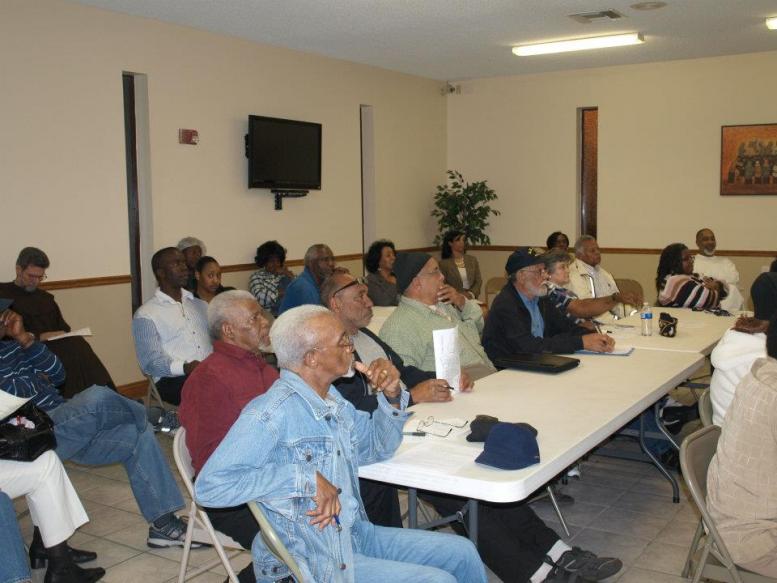 A Community Voice Fights Against RTA Cuts in Lower 9
January 12th, 2012
RTA plans to cut buslines in the Lower 9th Ward, particularly the Galvez Street bus were put to a halt after ACV members mobilized to do a quick action on RTA officials with the aid of State Representative Wesley Bishop.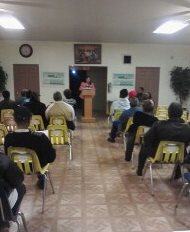 A Community Voice Action on RSD about Cracked up Homes by Frantz School
December 8th, 2011
Residents meet with Attorney Mike Darnell about their rights to sue concerning Frantz School construction problems and damage to their homes.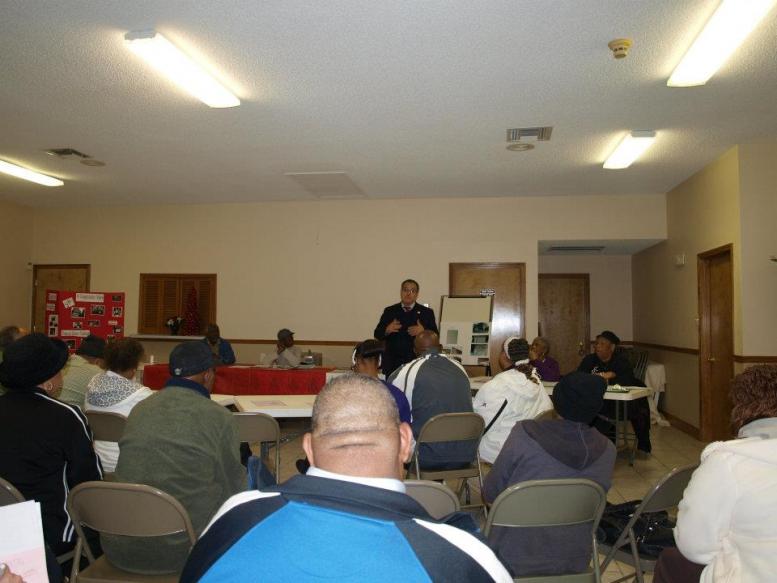 November 10th, 2011
Residents who live around the Frantz school construction site have been experiencing foundation cracks and other damage to their homes from pile driving and construction traffic and met with Recovery School District (RSD) officials. The RSD is trying to place the blame solely on the contractor and has thus far refused to aid residents who are fighting to save their homes.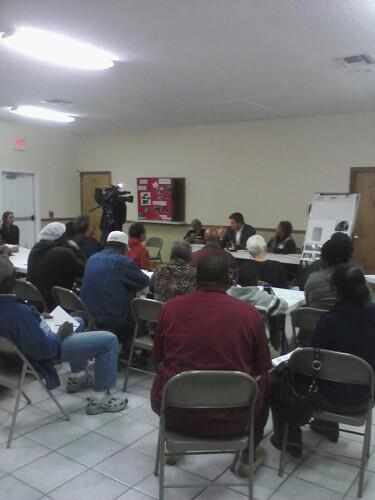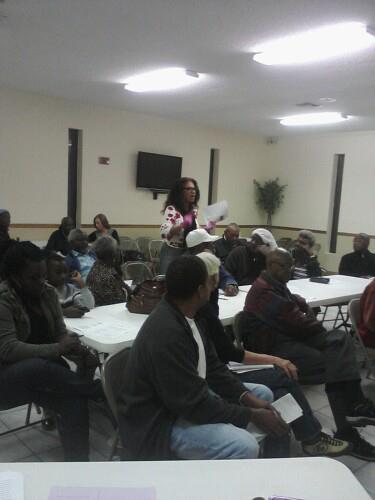 ACV in the News
ACV in the News
A Community Voice Hosts Book Signing of Battle for the Ninth Ward
August 29, 2011
New book by ACORN founder Wade Rathke details the struggles of ACORN members (now ACV members) who fought to save the Lower 9th Ward.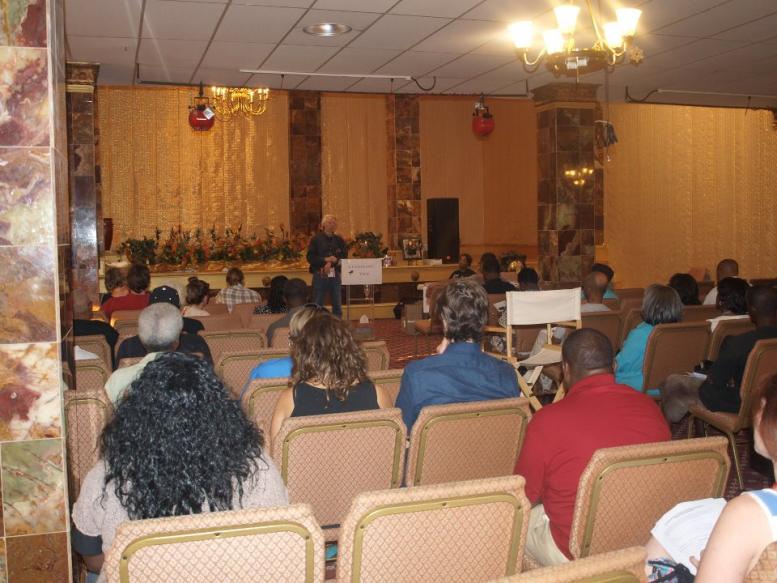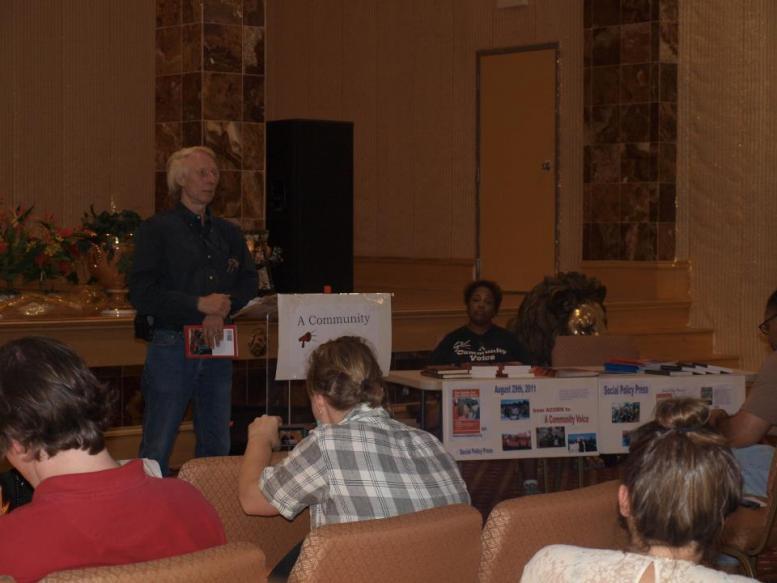 ACV in the News
Battle for the Ninth Ward Press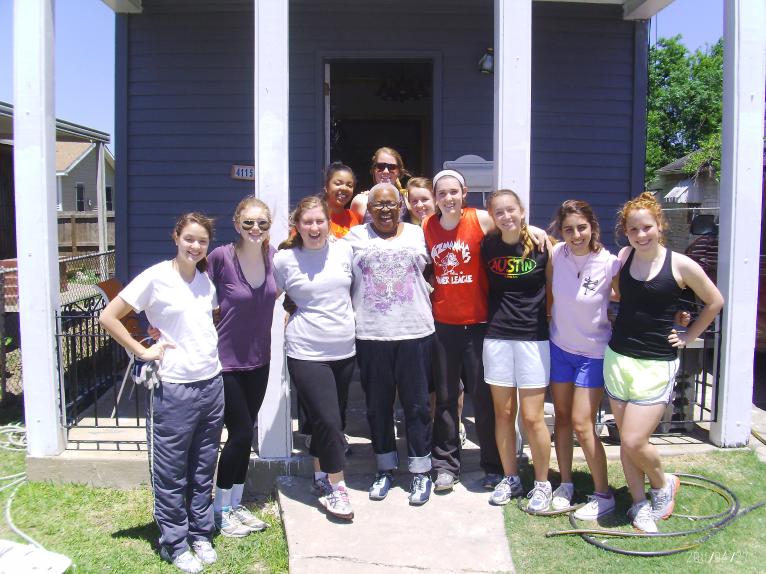 Volunteers Help Clean Up in the Upper 9th Ward




April 2011

Upper 9th Ward A Community Voice Board Member Debra Campbell helps organize a group of volunteers to clean up vacant lots in her Upper 9th Ward neighborhood. The City of New Orleans should be cleaning up and restoring our neighborhoods. Instead, we depend on the kindness and willingness of volunteers from all over the country to help the elderly, low income and our children live in a safer and cleaner neighborhood.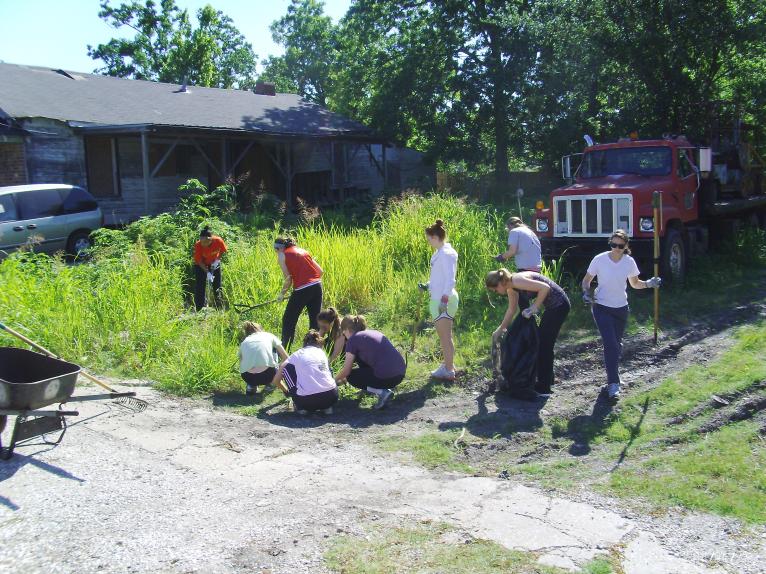 A Community Voice Speaks out against recreation fees for low income children.
March 1st, 2011

Volunteers from InterFaceFlor came to the Lower 9th Ward to go door to door to pass out flyers about upcoming summer camps for neighborhood kids.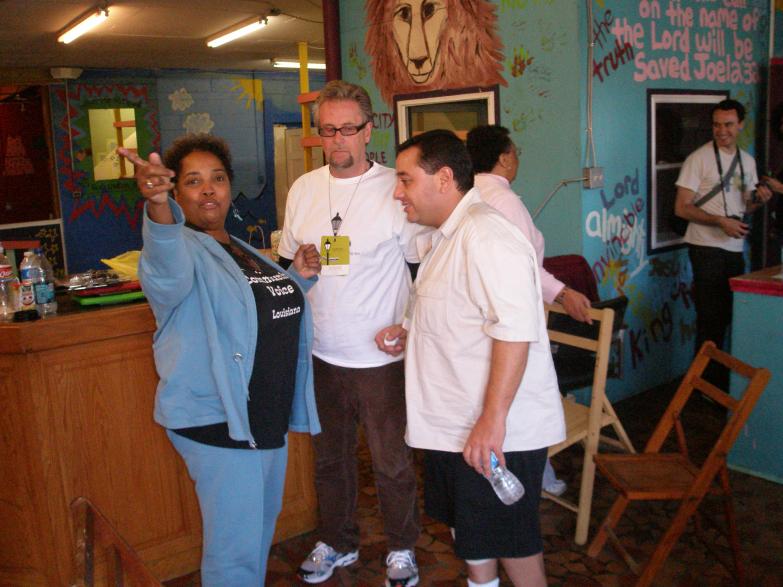 Volunteers also spread the word to the community that A Community Voice won the re-opening of Sam Bonart Pool this summer.


A Community Voice Brings
Justice Department to New Orleans
Calls for Investigation into Recovery Dollars

February 22nd, 2011

Over 100 residents come out to testify to Justice Department official, Carmelita Pope Freeman, about post-Katrina civil rights discrimination in terms of equity in rebuilding issues. After five and a-half years of struggle, flooded and devastated neighborhoods of New Orleans have yet to receive their fair share of recovery projects including infrastructure repairs. Residents feel money was stolen from their neighborhoods and re-allocated to less damaged areas of the City.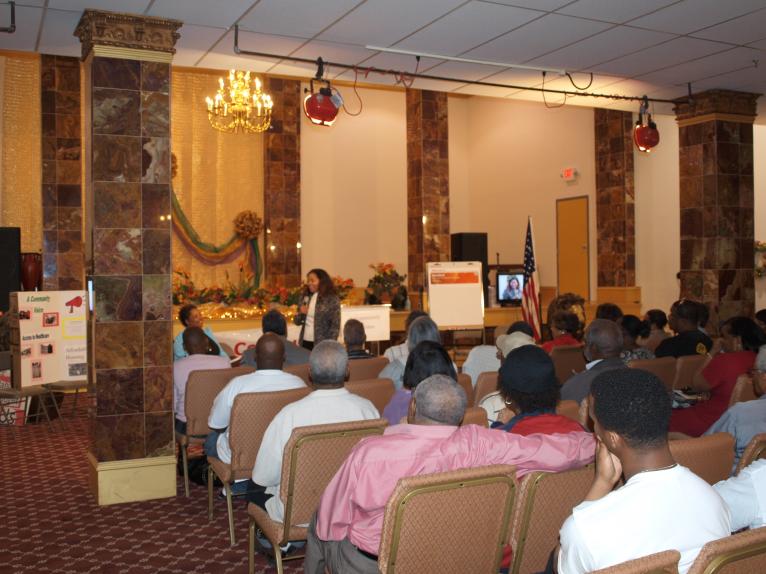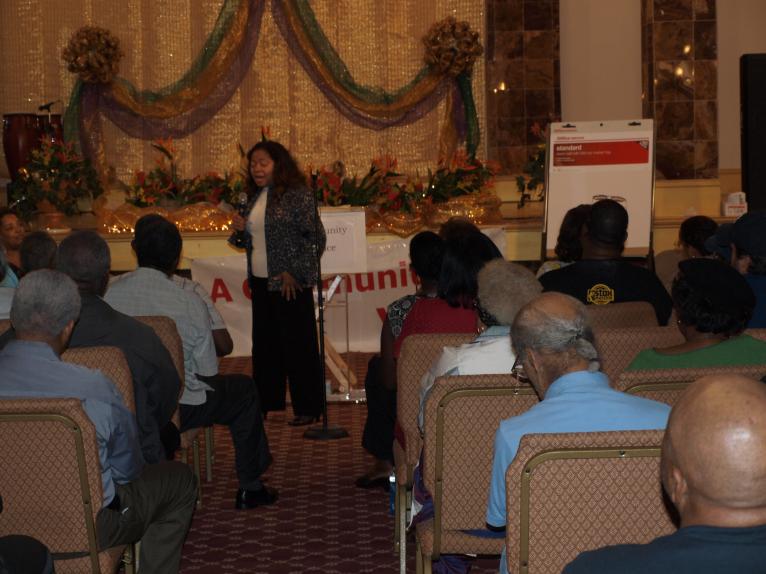 At the meeting, residents requested that the Department of Justice investigation our lack of hospitals, ambulance service, schools, playgrounds, parks, fire stations and police stations in the flooded neighborhoods as civil rights discrimination.

Mrs. Pope Freeman expressed that she would return to New Orleans to investigation and meet with community residents. It has yet to be determined if and when the Department of Justice will honor their commitment to the residents of New Orleans.

New Orleans East A Community Voice Members mobilize to Stop a Garbage Incinerator from coming into their Community

Jan 13th, 2011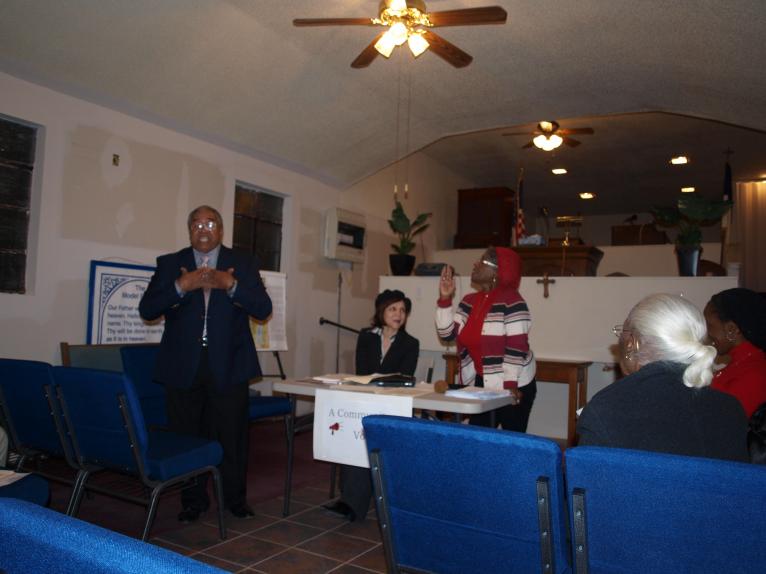 Members made sure the candidates running for State Representative District 101 understood that the Neighborhoods are against a garbage incinerator.

ACV members stopped SUN ENERGY in early 2009 when they tried to get a permit for their garbage incinerator. With a new Mayor and no opposition from the City Council, investors feel they can fast track this project. Garbage will be shipped from at least 8 parishes (if not out of state) along the Industrial Canal and along the I-10 roadways. We need our hospital and positive economic development projects for our City. We don't need GARBAGE!

SUN ENERGY pretends to be "green" to get tax breaks and pretends it will be bring tons of jobs into our City. Don't believe them. It will bring pollution, untested technology, and high paying jobs only for "friends" of the investors. Regular people will only have jobs sorting garbage that could poison and kill. They have partnered with "Air Products" another polluter company in our town. Don't fall for their scam! Call your City Council member today at 504-658-1080 to say NO GARBAGE INCINERATOR in our Town! They know what SUN ENERGY is because many of their friends and relatives are the investors.


A Community Voice Caravan for Justice
"Spend the Money Where You Raised it!"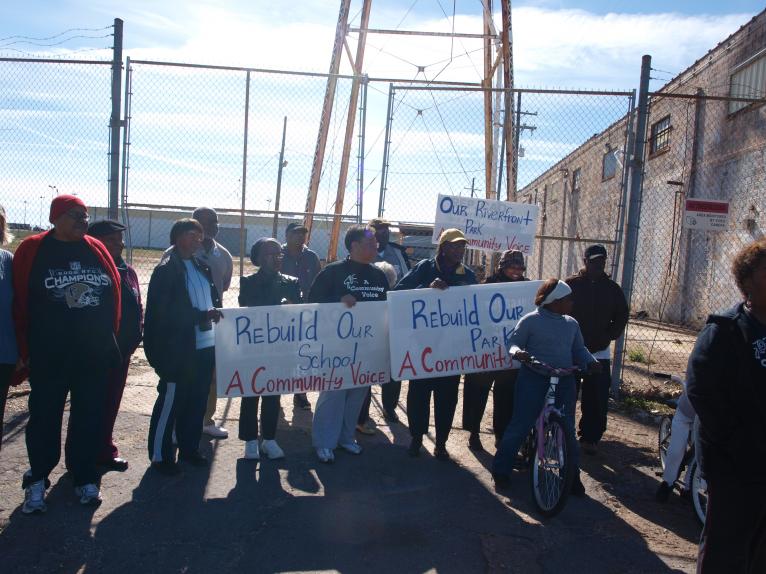 Jan 8th, 2011

Our first protest of 2011. Members caravanned through the Lower 9th Ward to highlight what needs to be fixed in their neighborhood. Fox 8 came out to cover our press conference on how we would like the Reinventing the Crescent project to extend beyond Poland and into the Lower 9th Ward, as the original plans dictated.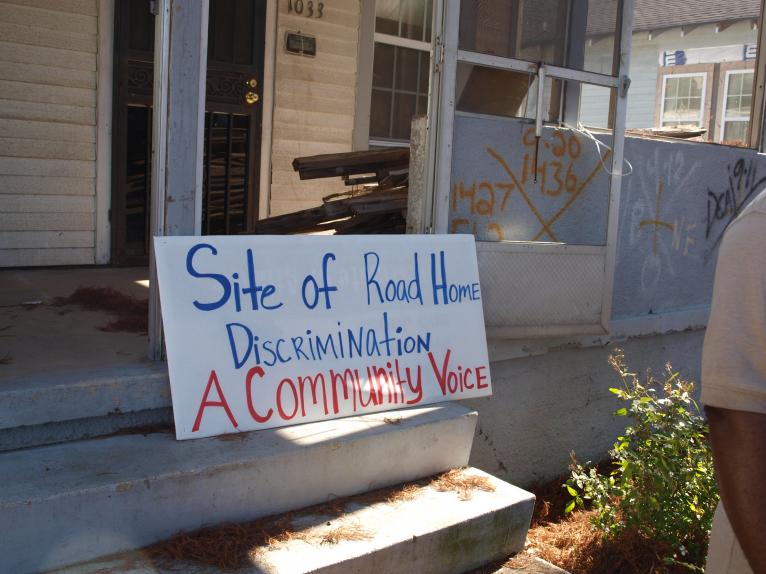 Among the projects that are needed and necessary for the neighborhood include our school, our park, our senior center. Members are asking that basic infrastructure be repaired. We will not stop until the City spends the money where they raised it!


A Community Voice Members Wins on Student Safety and Campaign to End Child Sexual Abuse

December 2010

After a series of actions, protests, and meetings, A Community Voice members won the following safety measures for our students:

1. 5TH District Police have increased patrols in area where the rape happened.
2. Several Abandoned houses torn down where rape happened (& the first one, within one week of rape).
3. All streetlights replaced on same block within 24 hours of rape.
4. Orleans Parish Sheriff's deputies are instructed to patrol areas where students get off their buses.
5. Recovery School District will regularly brief bus drivers that they should drive students to their homes if their bus stops are unsafe.
6. City of New Orleans Office of Public Safety – Colonel Sneed agreed to convene RSD, NOPS and BESE, Chief Serpas, ACV, and others to brainstorm and develop a plan or Best Practices for school bus stop and crossing guards, and to make RTA bus stops safer.
7. City of New Orleans Blight Elimination will prioritize demolition of abandoned housing and clearing high grass at bus stops.
8. Major blight initiative by the City of New Orleans, including 5 huge clean-ups in Dec. 2010. 9. RSD has agreed to send a letter to bus drivers to notify them of their liability and the community's concern for students dropped in unsafe areas.
10. ACV has been approached by many women who were raped by family friends and have asked for a Campaign Against Child Sexual Abuse.
11. State Sen. Cynthia Morrell and State Rep. Charmaine Marchand Stiaes will introduce legislation to prevent buses from dropping children.
12. District Attorney Cannizzaro and N.O.Police Dept have prioritized rape.
13. Old Rape test kits are now being tested.
14. New Orleans City Council passed a "Resolution to Prioritize cleaning blight and neglect from all School and RTA bus stops," January 20, 2011.
Thanks to every member who came out to work on this issue, you participation does matter.
A Community Voice Members Speakout Against Rape of Teenager and Demand Student Safety at all Bus Stops

A Community Voice ~ hosted a rally and candle light vigil on Friday, November 12th, in front of RSD offices at 1641 Poland Ave, to address the safety of our school children as they are being dropped off in our neighborhoods. From across the city, parents have called A Community Voice, to complain about the lack of safety at bus stops and where children must walk to get to their homes. Vanessa Gueringer, A Community Voice board member, "Since a girl was raped in a blighted house in the Lower 9th Ward, school buses continue to drop off students alone in unsafe areas all across our city. Just this week, witnesses have complained that school buses across the city drop kids off in unsafe areas with no police patrols in sight. All we want is for those in charge to take responsibility for ensuring that there is a safety plan for children coming to and from the schools, and that any bus stops that are assigned to students are ones that are safe and free from blight and overgrown weeds."
State Senator Cynthia Willard-Lewis and Sheriff Marlin Gusman attended the event in support. Senator Willard-Lewis offered to draft legislation around student safety and Sheriff Gusman committed to patrols around school bus zones to help prevent harm coming to more students.
The City has spent millions in un-flooded communities with Recovery Funds but no Recovery projects have been started in the Lower 9th ward, and this has left this community in danger due to the high grass and vast numbers of abandoned houses.
Owners** of homes in the area still repairing their flooded properties have had multiple break-ins and can't complete the work due to lack of police presence in the area. Furthermore, the Police have been notified about the break-ins and have not patrolled the area.
Institutional Change Needed Now:
The City needs to demolish the houses or board them securely, and begin real Recovery in the area they use for a poster child of Katrina needs.

The School Systems need to ensure that every child is let off the school bus in an area that is secure, even if they have to drive a little farther. From The Women's Center list of ways to prevent rape: "AVOID isolated places"

The Police need to provide community policing 24 hours a day in blighted areas, with the most vacant properties and vacant lawns and all police need to watch especially for children.

We need schools in all our neighborhoods especially in the Lower 9th Ward where there were 8 before the storm so that our kids don't have to be bused all around the city.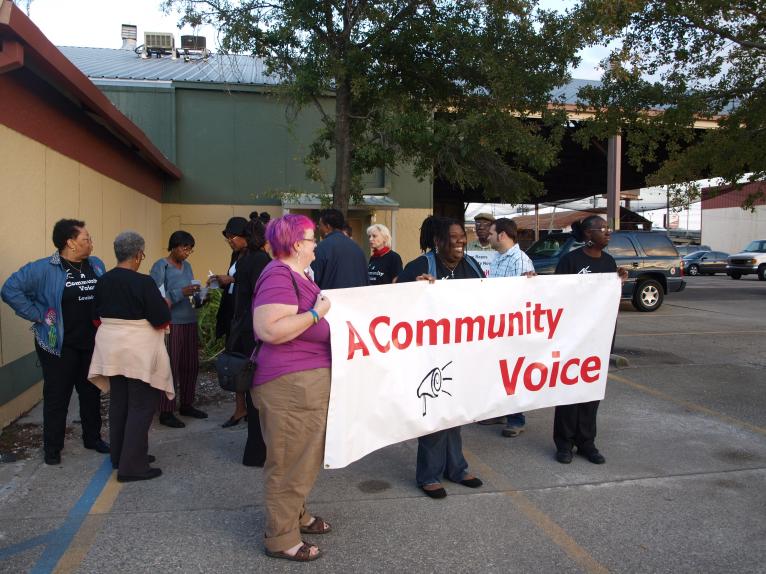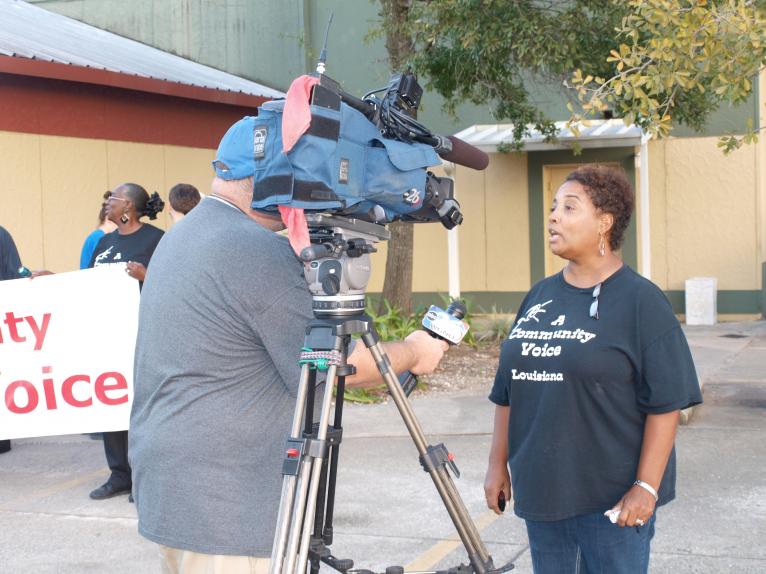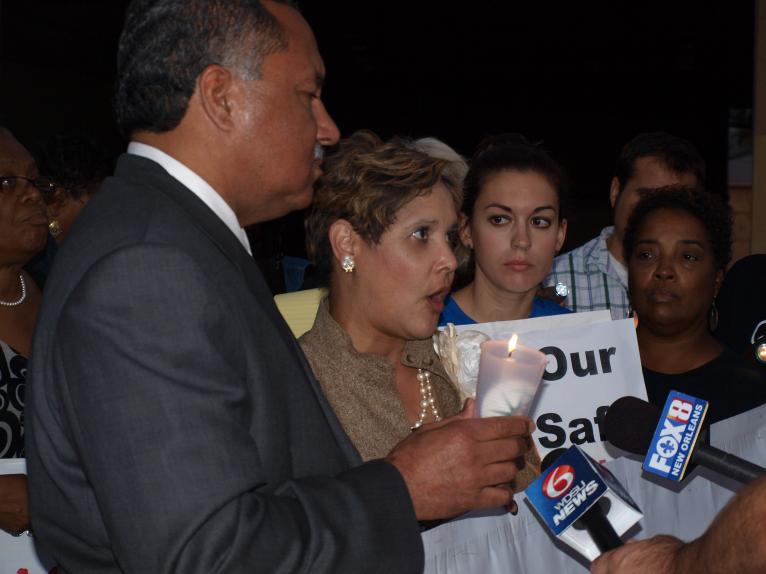 A Community Voice Members Hold Press Conference
October 7th, 2010 New Orleans City Hall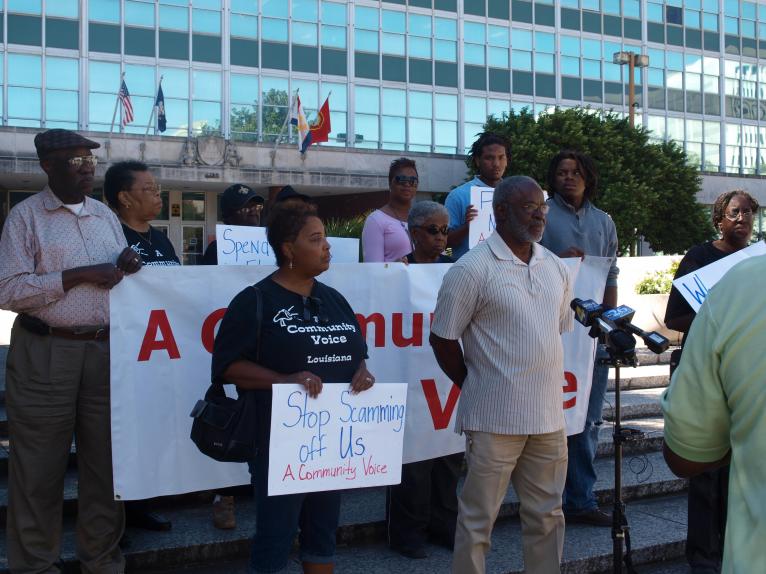 After Mayor Landrieu visited the neighborhoods and heard the residents' concerns and frustrations over a lack of recovery and the 5th Year Anniversary of Katrina and the subsequent press surrounding the identification of the 100 top projects, the most devastated neighborhoods such as the Lower 9th Ward and New Orleans East neighborhoods are still languishing in a state of disrepair. Buses still tour the Lower 9th Ward every weekend to view the devastation with the community receiving none of the proceeds and the community actually still has no transparent accounting of what has happened to the recovery funds for their neighborhood.
"Obviously, the priorities of the City Council are the Lafitte Greenway, Public Railroad Belt, and not the concerns of the community," says A Community Voice Board Member Vanessa Gueringer. "We are fed up with seeing our money diverted into other areas and our concerns being put on the back-burner which is why we are here today. We are demanding to be heard and recognized as being the ones who are restoring our own neighborhoods."
In the place of the City coming out into the neighborhoods and investing in the communities, everyday residents have been taking on the burden of restoring their neighborhoods. Over 200 residents came out on Labor Day to cut overgrown grass on properties owned by the City and Road Home and another grass cutting volunteer day is scheduled for Saturday, October 16th. The people have made the commitment over and over again for their neighborhood. However, the City has failed the people.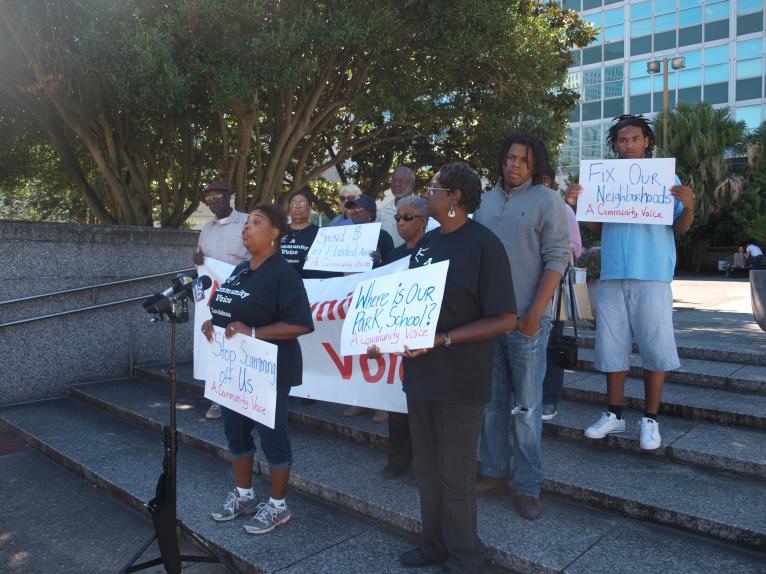 Members also went inside the City Council meeting to ask when Federal recovery dollars are going to be used to help the neighborhoods that were most damaged during hurricane Katrina. They got no answers.


Senate District 2 Town Hall

September 23rd, 2010

New Orleans East & Lower 9th Ward Residents Interview Candidates Running For State Senator District 2 ~ Election Day October 2nd, 2010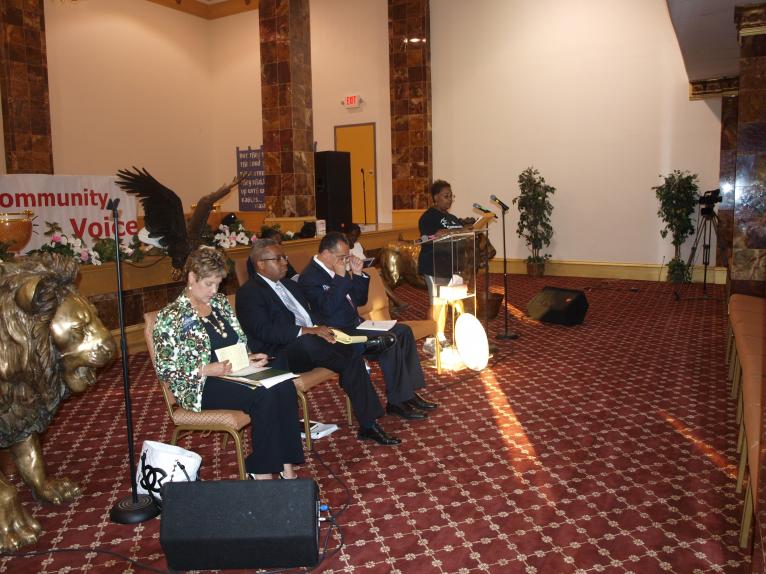 Candidates Mike Darnell, Cynthia Willard-Lewis, Ira Thomas, and Edward Washington faced questions from residents concerning what they would do to improve the neighborhoods of District 2.
New Orleans East and the Lower 9th Ward have no doubt experienced stalled recovery since Katrina. Despite having received the most damage, these neighborhoods have continued to see money set aside for their areas diverted into funding projects outside this district.
Upper 9th Ward ACV Meets With City
September 16th, 2010

The recent uprise in violent crime has residents on edge. They want and need the NOPD to do their job and patrol our streets. Residents are upset that even right after a violent murder has occurred on their blocks, they see no patrols.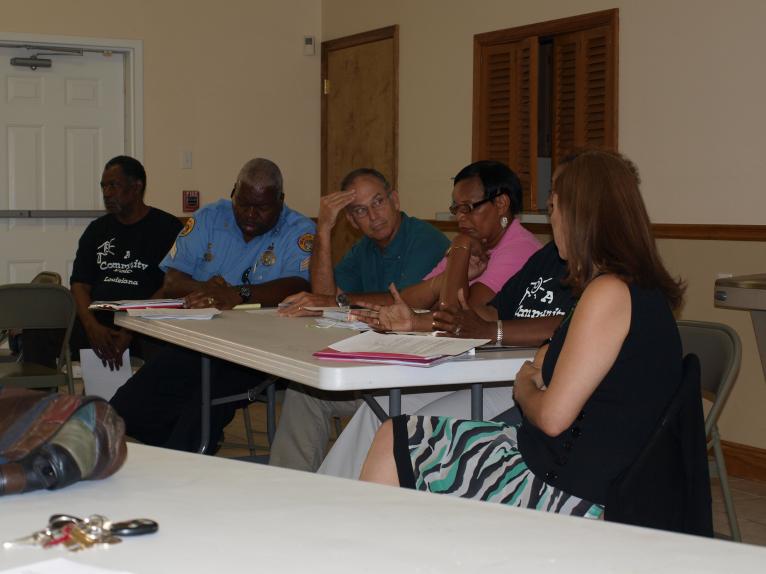 200 Volunteers Come Out to Cut Grass in Lower 9th Ward
A Community Voice members, area ministers, community leaders, and WBOK spend their Labor Day cutting down grass that had grown so high that residents could not see when driving down area streets and homeowners were getting rats, snakes, and other pests into their homes.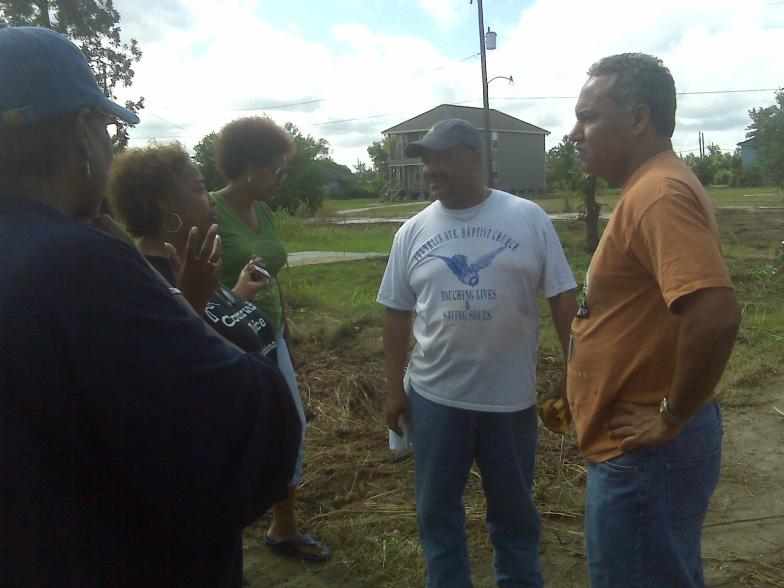 Flooding along the Monticello Canal, which is located at the Orleans-Jefferson Parish line in the Carrollton-Hollygrove communities, has long plagued the residents of that neighborhood with flooding issues.

On July 15th, 2010, residents of the impacted neighborhoods attended a meeting with officials from the Army Corps of Engineers and Sewerage & Water Board of New Orleans to demand a flood wall for their side of the Canal. Jefferson Parish has long had a flood wall for their side of the Canal, indicating the disparities in flood protection that New Orleans residents continue to face 5 years after Katrina.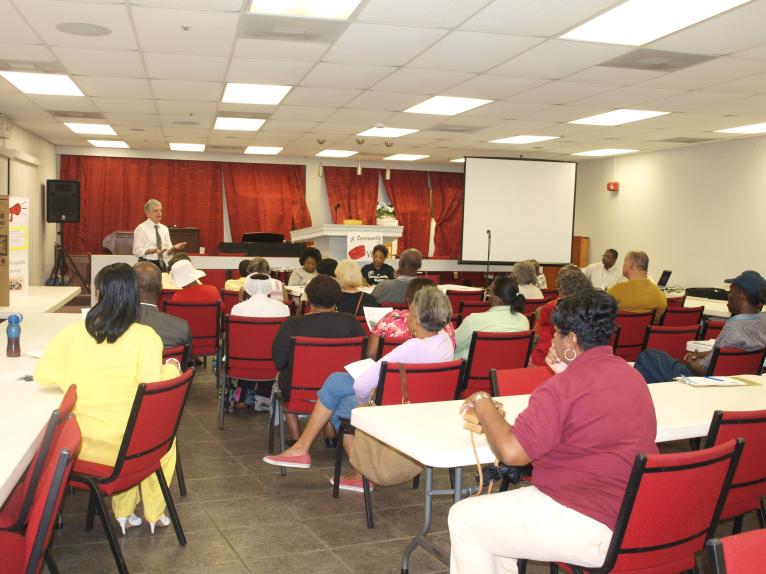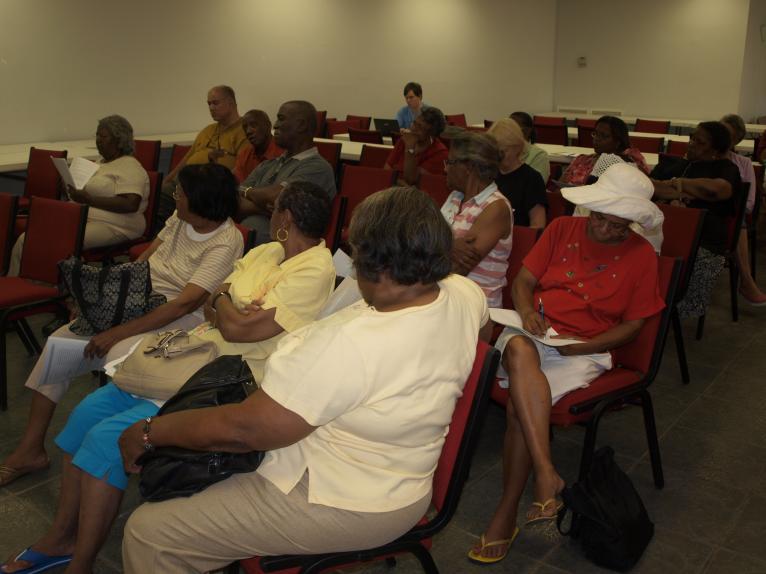 Fight for Equity in Rebuilding continues . . .




Residents meet with Inspector General Quatrevaux and demand an investigation into Recovery Funds.



Spend the Money Where You Raised It!
A Community Voice's Equity in Rebuilding campaigns fight for recovery dollars for flooded neighborhoods. We organize community meetings and neighborhood actions/protests to highlight the inequities in the allocation of recovery dollars for the flooded, devastated neighborhoods of New Orleans. Most of the money donated to New Orleans after Katrina never made it to the people. We are asking for investigations by the Department of Justice of how FEMA funds and donations were spent by the City of New Orleans.